Buyer Beware, Bloggers Be Careful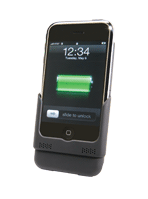 As I have an iPhone, I'm always intrigued when I see new gadgets and accessories that float about for those devices. This was the case with the iPhone Battery Sleeve from FastMac.
Not just a sleeve, the FastMac Battery Sleeve will power up your iPhone, and also comes with a flash light that can be used as an aide in low light photography with the iPhone. In addition there is a USB port for charging other devices. The device has been talked about on blogs for the last week or so with everyone pointing to the $79 price. Which is indeed what it looks like. Unless you actually go to order.
On the product page you are directed to click an image of either the original iPhone or the iPhone 3G and that takes you to an order page. However, it takes you to the same one regardless of what image you click. You then have to click a small drop down menu which gives you different SKU's for the two iPhones.   If you select the iPhone 3G you'll see this pop up a $20 price premium taking the order to $99. I looked at this last week and that price premium was $10. There's nothing terribly wrong with how things are laid out, but unless you're paying attention you could be surprised given the path you've taken to reach that point. In fact, I could see where it would be quite easy to overlook the drop down and order the $79 model without looking at the drop down.
I'm not sure if this is deceptive marketing or just lousy website design, (to be fair the site does say starting at $79), but buyers should always beware and alert. What is equally concerning is that in all the blogging about the FastMac Battery Sleeve, not once did I see a mention of the price difference for the later iPhone. Everyone focused on the $79 price tag, primarily because it was $20 cheaper than other similar battery solutions that are just now shipping.