iPad Air at Best Buy: Buying Experience and Availability
Almost every year I trek down to my local Best Buy store in Hickory, NC to buy an iPad. I skipped the iPad 4 and ordered the first iPad online, but I picked up the iPad 2, iPad 3, iPad mini and now iPad Air all at Best Buy.
While many people don't like shopping at Best Buy, I've had good experiences buying iPads there for a few reasons. First, the store's about 20-30 minutes from my home in rural Western North Carolina. The nearest Apple store in north Charlotte takes over an hour to get to. Second, because Best Buy's the closest tech store, I shop there a lot. I know some of the guys who work there and even like talking with them as I wait for the doors to open. Third, the one time I tried to get an Apple product at an Apple Store took me two hours of waiting and I walked away without the iPhone 4 I tried to buy. Finally, as a Best Buy Rewards customer, I get discounts after spending a certain amount of money and perks like extended time to return products, up to 60 days for some Rewards customers. I saved up my points and cashed them in for a $20 certificate this time. The iPad Air will earn some more discounts, which I'll use for future purchases.
If you want to know if your local Best Buy has the iPad Air in stock, go here and enter your zip code to get near real time stock at Best Buy stores.
The store looked lit up as store staff prepared for us to arrive to buy my iPad Air at Best Buy. One service rep stood outside at 7:45 a.m. with a stack of certificates. Two other customers already there got out of their cars when they saw me arrive. The rush was on. By the time the store opened, just six to eight people held certificates. It's nearly noon now and I'm guessing I could head back over and get another one if I wanted.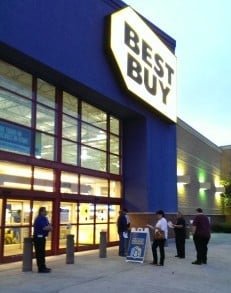 The man with the certificates rifled through his stack to find a 64GB AT&T in Slate Gray and didn't find one. I changed my mind on the spot and grabbed a 128GB Wi-Fi only model instead.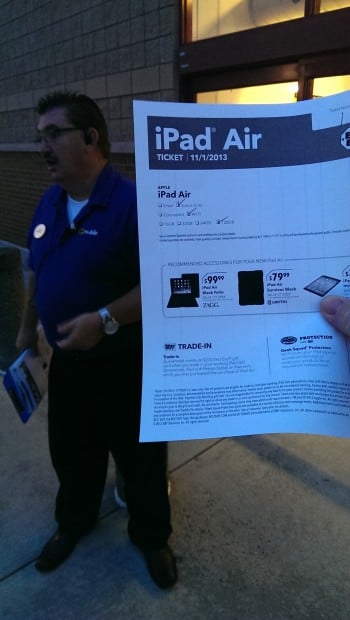 We walked through the doors at 8:00 a.m. sharp and got in another line inside. They wrote my name on another certificate and passed me off to a nice sales person. She asked what I wanted to get and I felt like telling her to just read the paper. Instead I held back my snarky comments and told her what I wanted. She told me about all the great accessories and apologized that they didn't have any screen protectors in stock. We grabbed the light blue Apple iPad Air Smart Cover and checked out using my $20 certificate.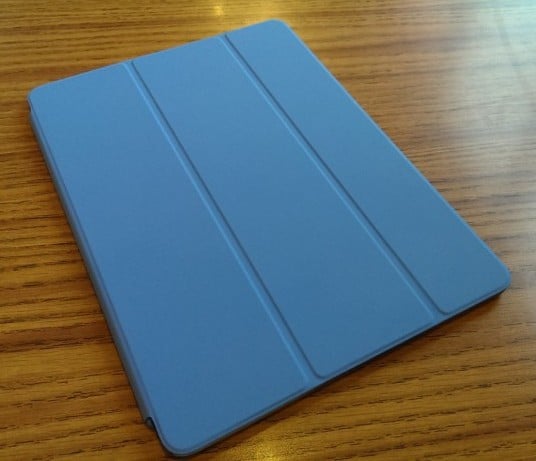 The entire process took me 10 minutes. Our editor, Josh Smith, experienced something a little different. It took him 25 minutes and he had to wait longer than I did. He also couldn't get an iPad Air with LTE. They put more pressure on him to buy accessories and he didn't think they organized this launch very well.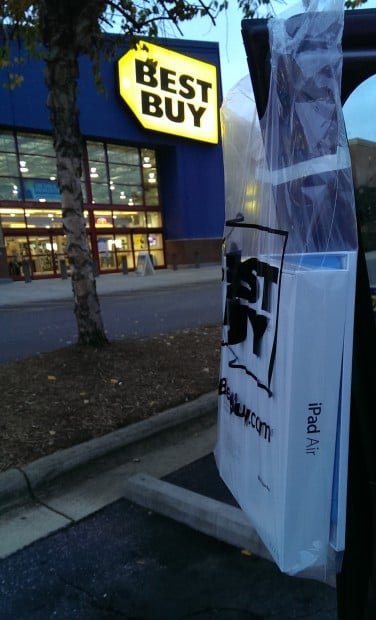 This counts as another good Best Buy iPad buying experience. Later this month, I'll likely get in line to buy an iPad mini with Retina Display.

This article may contain affiliate links. Click here for more details.