C1 PMG MicroTablet: Not A UMPC/Origami But Very Intriguing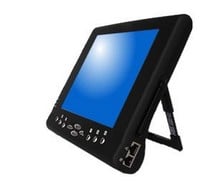 News of this intriguing device is starting to circulate around the Tabletscape. Described as not a UMPC, the C1 PMG MicroTablet does not include the Tablet OS or Touch Pack sofware, the screen is 8", and C1 Solutions describes it as a MicroTablet for its Australian market. That said, it looks like an interesting little touchscreen device.
"The C1 MicroTablet is designed as a total lifestyle product serving mobile entertainment, communication as well as computing needs in one go. Unique in design, C1 MicroTablet is a hybrid version of other portable mobile devices but with integrated multimedia functions that complement digital lifestyle users. "
Processor: VIA Eden- 1GHz
Hard Disk: 40GB up to 100GB
Memory: 128MB DDR/256MB DDR/512MB DDR/1GB DDR
Video RAM: S3 UMA (AGP 8X LVDS Interface)
System: Whizpro Bios, APM 1.2
Communications: Wireless – Wi-Fi 802.11b/g & Bluetooth Integrated
Modem: – NOT included in Australian Model due to approvals.
LAN – Realtek 10/100 Base-T
Sound: AC-97 Audio on board sound,16-bit stereo, full duplex built-in speaker and microphone
Operating System: Microsoft Windows® XP Home Edition or Microsoft Windows® XP Professional
Display: 8.4″ TFT LCD Touch Panel SVGA 800×600
Expansion I/O: 3 USB 2.0 port, 1 IrDA port, 1 Earphone jack, 1 Microphone jack, 1 PCMCIA Type II Slot, 1 Mini VGA output port, 10 HOT Key – Quick Access Button, 4 Directional Buttons
Accessories: Smart Case, Stylus Pen, AC/DC adapter
Battery: Removable Li-ion Standard Battery Pack (up to 3 hrs) (I hope that this was not calculated in the same way than a 2.5+ that I know about it)
AC Adapter: Input : AC 100-240V 50/60 Hz, Output : DC 16V, 3.13A
Dimensions: 231mm * 192mm * 42mm
Weight: 1.19kg (with battery)

As an Amazon Associate I earn from qualifying purchases.