CableJive ProJive XLR: High Quality Recording on Smartphone or Tablet
The CableJive ProJive XLR makes it possible for users to record high-quality audio from an XLR microphone to any device that includes a mini 3.5mm stereo jack for input. We tested it using a computer, iPad mini and Android smartphone. All three worked well.
Buyers of the CableJive ProJive XLR will get a cable with a 3.5mm headphone jack that works with any device compatible with headphones or ear buds that include a mic input, like Apple's iOS devices or most Android smartphones. On the other end of the ProJive XLR there's an XLR input. XLR inputs offers higher quality audio and connect to microphones that one might find in a pro audio environment. We tested it using a mic borrowed from a church. The cable also includes a jack that the user can plug in headphones into, or a stereo cable connected to speakers so that the user can hear what they're recording.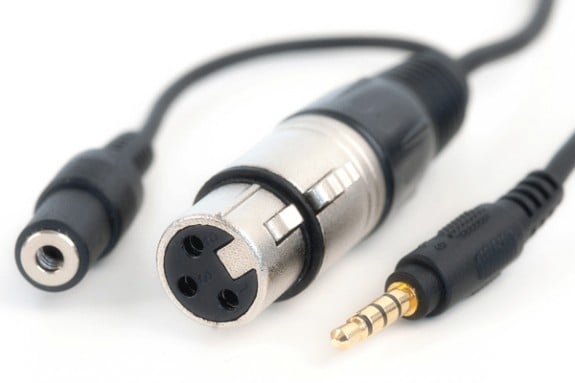 Who's the CableJive ProJive XLR For?
Connect the mic and headphones or stereo cable to one end and the other end to a recording device and the user gets an inexpensive mobile recording studio. The ProJive XLR would work great for field reporters wanting high quality audio recordings of interviews. We could see podcasters using it to record their content. It works great as a mobile recording studio for speakers. Just plug it into an iPhone and slide it into the pocket.
Watch the demo from the company below:
A Demo of the CableJive ProJive XLR
We tested it using three devices. First we hooked it up to an iPad mini and recorded a short clip via SoundCloud. SoundCloud serves as a YouTube for audio-only content. Here is the result on an iPad mini using SoundCloud:
[soundcloud url="https://api.soundcloud.com/tracks/78925723″ params="" width=" 100%" height="166″ iframe="true" /]
Next, we plugged our XLR mic into a MacBook Pro using the ProJive XLR via an app called eXtra Voice Recorder, a simple audio recorder available in the Mac App Store for $9.99. Here's the short clip we created and uploaded to SoundCloud:
[soundcloud url="https://api.soundcloud.com/tracks/78930104″ params="" width=" 100%" height="166″ iframe="true" /]
Last, we used the SoundCloud app on a Samsung Galaxy S3. Here's the demo on the Samsung Galaxy S3:
[soundcloud url="https://api.soundcloud.com/tracks/78929456″ params="" width=" 100%" height="166″ iframe="true" /]
Review and Recommendation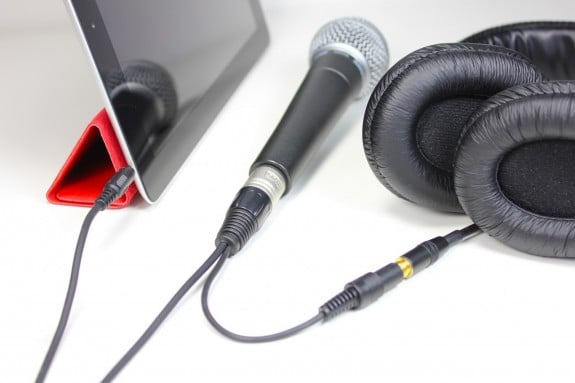 The CableJive ProJive XLR offered nice sound. The above demonstrations came from highly compressed sound recording tools, but the adapter still recorded decent quality audio. The device produced clear audio that didn't introduce background noise or hissing and offered good range for vocal recording.
We don't recommend this for professional level music recording. It's fine for spoken word or amateur music recording. We could even see professionals who record spoken word using it as a mobile tool for recording interviews on the go.
The person recording will need to get an XLR microphone, which is a device to record the audio, plus software. The iPhone, iPad and Android smartphones or tablets all include audio or voice recording either in the OS or via free downloads from their app stores. Users can also find good computer recording software for free from Audacity for both Windows and Mac. For sharing audio, we really like SoundCloud, which offers apps for iOS and Android.
The CableJive ProJive XLR's headphone output didn't work as well as we'd like. We plugged two different headphones into the headphone jack on the XLR end of the cable. The adapter outputs audio at extremely low volume, so we could barely hear it. As the above recordings prove, it's capturing audio at a decent volume. It's just not outputting it through the stereo headphone jack on the XLR end well enough. Despite that, we still recommend the cable purely for recording purposes.

As an Amazon Associate I earn from qualifying purchases.