Call of Duty Advanced Warfare Apps Worth a Download
The first thing buyers of Call of Duty Advanced Warfare should do once they get the game doesn't involve targeting  practice or trying to adjust for the game's new mechanics. Instead, they should download Call of Duty Advanced Warfare Companion for the iPhone, iPad, Android and Microsoft's Windows operating systems.
A video revealed what users can expect from the Call of Duty Advanced Warfare Companion app some time ago, but only recently have the app's full slate of features coming into focus. Forget player customization, the free download app for this year's version of the long-running first-person shooter franchise is all about Clans.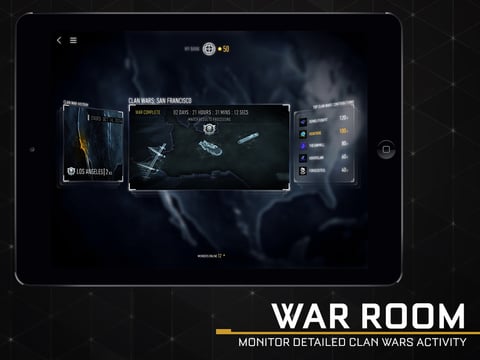 Clans are exactly what their name suggests. Call of Duty Advanced Warfare players can create their own groups of players for the game's multiplayer experience. The Call of Duty Advanced Warfare Companion app is the easiest way to manage these clans. Everything from Clan messages to Clan customization is set within the app. In addition to Clan communication, users can look at any wars their Clan might be participating in, a history of the wars they've already competed in and a breakdown of which Clan members are performing the best.
Companion apps for games aren't necessarily anything new, but that Call of Duty Advanced Warfare uses them in such a unique way is worth nothing. Traditionally, second screen experiences have been pretty basic. Most offer customization options and that's about it.
https://www.windowsphone.com/s?appid=669bf4eb-364e-450e-b9f5-dbe6973387b1
To be clear, Call of Duty Advanced Warfare Companion apps for don't drop basic customization features for these more exciting functions. Player profiles are still available through the app and an emblem editor allows players to create a custom emblem to represent their profile.
Launching tomorrow, Call of Duty Advanced Warfare is the latest installment in the long-running franchise. Early on it appears to be a hit since there are enough new things to get both long-time and new players interested.
Call of Duty Advanced Warfare abandons the past and present for a story that's set in the future. Enemies get around on hovercraft. Exo suits allow players to jump higher than they could in past games and in the campaign's story, even super-strength is an ability unlocked by a new exo skeleton. This being the future, there are futuristic weaponry loaded throughout each level. These features should make for a much more interesting multiplayer.
Actor Kevin Spacey stars in the game's story as the head of Atlas, a government defense contractor that he alone controls. Atlas acts on behalf of the United States government but is seen wielding the power of his company as a sword to do with what he wishes. Past trailers have shown American cities and landmarks being attacked by foes in what appears to be an all-out war.
Though developer Sledgehammer created the game with next-generation consoles in mind, Call of Duty Advanced Warfare is available on consoles new and old. Those consoles with native versions include the Xbox One, Xbox 360, PS3 and PS4. Windows PCs also have their own version of the game. Those who have an Xbox 360 or PS3 version of the game can rest buy the game now and upgrade to a digital copy of the game for their new Xbox One or PS4 for free. This offer is only for digital versions of the game. The Season Pass that allows users to download new maps and content for a set price is also transferable for users who get a new console this holiday season.
Read: Ultimate Call of Duty: Advanced Warfare Deal Arrives for Xbox One & PS4
Call of Duty Advanced Warfare buyers can download the game now from the Xbox Store or PlayStation Network and play alongside others who've pre-ordered digitally. Copies pre-ordered in store can be picked up today as well. The game goes on sale for those who didn't pre-order at retail stores tomorrow technically. Call of Duty Advanced Warfare starts at $60.