Call of Duty: Ghosts Xbox One Game Footage Looks Amazing
While Microsoft spent a lot of time talking about the media features of the Xbox One, the reveal event closed with a look at the new Call of Duty: Ghosts along with an exclusivity announcement.
Like previous Call of Duty games, Microsoft's console will receive the downloadable content for Ghosts before any other console. This time map packs and other DLC for Call of Duty: Ghosts will come to the Xbox One first. The announcement made it sound like even Xbox 360 gamers will have to wait for the DLC, which could push a lot of gamers to the new console.
Read: Xbox One: 5 Exciting New Features
To bring Call fo Duty: Ghosts Infinity Ward, developers of all the Modern Warfare games, built a brand new engine for the game that can show off what the Xbox One can do. The new engine lets the team create human characters that look more lifelike and environments that much more realistic or believable.
The team also decided to hire Stephen Gaghan, writer of "Traffic" and writer/director of "Syriana" to write the story of the new game. Gaghan wrote a story that beings "emotional reality" to the franchise, that helps make the characters feel more like real people. The Ghosts in the story are elite soldiers fighting to help save their country after the "mass event" that opens the game.
https://youtu.be/B00xKmtyfaY
Call of Duty: Ghosts even features a dog, which Infinity Ward claims people will care about. The dog will help sniff out bombs and alert the team to danger. To make the dog look realistic the team even took motion capture footage of a real dog with people playing its handlers.
While a renowned writer and a dog are great for the single-player game, most Call of Duty gamers are in it for the multiplayer. The Xbox One lets Infinity Ward create new dynamic maps. Events like earthquakes, floods and player-driven explosions will alter the landscape of maps, making sure the map never stays the same for too long.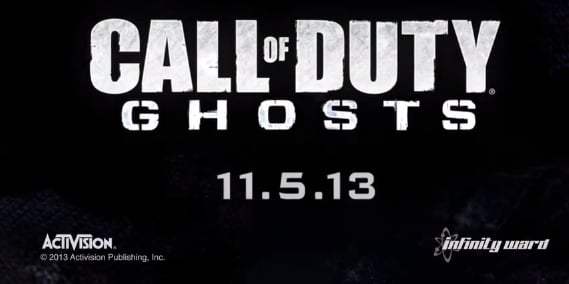 The Xbox One console will support more players in multiplayer matches, though Infinity Ward didn't mention if there are larger maps in the new game. The team may decide to stick with 16-player matches, or the Xbox One version of the game may support more players on the map at a given time.
Call of Duty: Ghosts will come out on November 5, 2013. The Xbox One may release sometime before then, or the game could release on the same day as the new console.