Camera+ 3 for iPhone Is a Major Improvement
Camera+, one of the most popular camera apps on the iPhone was just made a lot better thanks to an update that hit the App Store this morning. The update brought some new features for taking photos, easier photo importing , and a new API which will let other developers link to the app.
The API is easily the biggest new feature for Camera+ 3. With it users will be able to use Camera+ as the camera option in apps, assuming the app developers use it. The API has already been integrated into apps like WordPress, Tweetbot, Twitterrific, and Foodspotting. It might take a bit longer for Camera+ to launch as compared to the standard camera app, but it should result in better photos.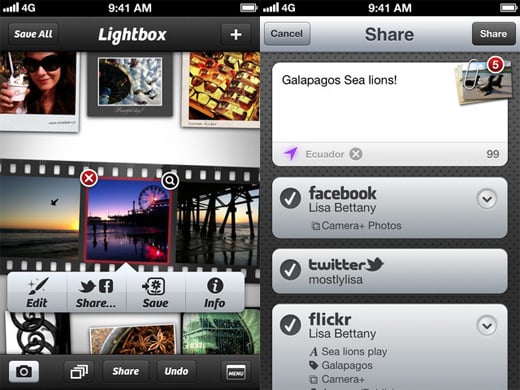 When taking photos Camera+ now includes the ability to lock your focus and exposure. With that photographers will be able to have more control over their photos.
If you have a number of photos in your photo library that you want to import Camera+'s Lightbox, that's no longer an issue. The app finally supports multiple photo import from the photo library. After importing your photos you'll be able to edit them in the new Lightbox UI, and share them over multiple Twitter, Facebook, and Flickr accounts.
If you want to share your photos right after taking them, you have that option. Or you can save the photos to the Lightbox and take multiple photos before sharing. The option is available as the new Workflow feature in the app's menu.
The Clarity feature that makes your photos look better is now turned on. iPhone 4S users will see the biggest change with some new tweaks made specifically for that phone.
We were given an early look at the app before it hit the App Store, and the new features make the app a lot nicer than before. It doesn't have as many filters as SmugMug's new Camera Awesome, but the ones it does have are nicer and more distinct than Camera Awesome's. The API alone make the app much more useful.
The only Camera Awesome features that seem better than the ones in Camera+ 3 are the ability to shoot video and that you can adjust the levels in Awesomizer. Otherwise the new Camera+ seems like the better app all around.