Camera Awesome Adds Instagram Support, Bundled Filter Purchases
SmugMug's Camera Awesome has already seen a ton of growth since launch, and it just hit 4 million users. To go with that milestone the camera app added a new sharing feature and an easier way to buy all the filters and effects available.
The new version of Camera Awesome brings in easier Instagram sharing, though it's not as easy as Hipstamatic's Instagram integration which lets you post from within the app.
After you take a photo and edit it in Camera Awesome, choosing to share it via Instagram opens the app with the photo already imported. It's not perfect, but it's a lot easier than saving the photo to the Camera Roll and then opening it in Instagram.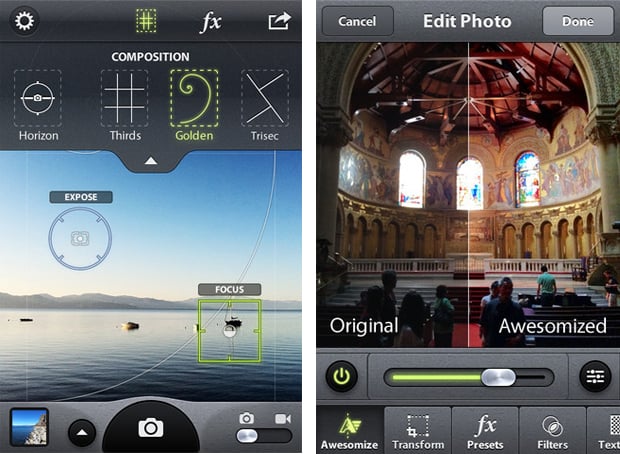 It would be nice if SmugMug worked more with Instagram so users can share photos without exiting Camera Awesome. Instagram isn't making that API available to anyone aside from Hipstamatic yet, but it'd be nice to see popular camera apps like Camera Awesome and Camera+ post photos to the social network more easily.
For new users Camera Awesome now has a quick tutorial the first time you open it so you're not fumbling around with all the different buttons in the app.
The new update to Camera Awesome also makes it easier to buy filters and effects for photos. The app has a total of 297 effects and filters that are all grouped together in $0.99 bundles. Previously, to get all the bundles you'd need to pay $28.71.
Now, instead of buying each individually, users can just buy all the bundles for $9.99. That saves users $18.72 versus buying them all individually. You can still buy each bundle if you'd like, but if you plan on buying more than 10 of them, buying them all will still save you money.
Via: All Things D