Camera Mic for iPhone snaps photos by sound, good but not great (yet)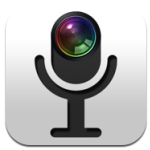 For those lamenting the lack of a physical button to snap photos from your iPhone or iPod touch, Camera Mic might be the next best thing. It doesn't add a button, but rather uses sound as a trigger to snap a photo. Anything from a tap on the microphone to the click from your mouth can work. After a five-minute review, I say it's good but not great, at least not yet.
First, the app delivers what it promises. Tap, whistle or blow into the microphone and it snaps a photo. The sensitivity level is adjustable, so you can set it to take photos from a direct brush against the mic to the sound of a light breeze and anything in between. To avoid shakiness from tapping the microphone on the iDevice, you can use the headset microphone instead. The app only works with the rear camera and offers flash control, but not tap-to-focus or HDR. Sharing photos via email, Facebook, and Twitter is included in the app. The sharing screen smushes photos taken in landscape, but that's just how the look on-screen; the photo file itself is not affected.
Among the advertised uses is the easier ability to take self-portraits using the higher-quality rear camera (the only camera on older iPhones). I think a more interesting use would be as a spycam with iPhone in shirt pocket taking photos when you snap your fingers under the microphone or tap on the headphone mic. Along those lines, you could also set your iPhone in fixed position and snap photos remotely by sound or headphone mic.
All that adds up to a useful app, but what would make this app really good would be the ability to set a specific sound or range of sound to trigger the camera, for example, brushing a finger across the microphone. They get that feature added, and I might recommend this for usage other than to use your headphone mic as a trigger.
Via TUAW and Lifehacker

This article may contain affiliate links. Click here for more details.