CamiApp For iOS Digitizes Written Notes, Works With Evernote And Dropbox
Digital note-taking systems have evolved to the point where they can truly replace pen and paper, but what if you're still a pen and paper type of person? Keeping a notebook for jotting down thoughts is a habit that's hard to break, and even Evernote's manifold attractions can't make up for less than elegant phone keyboards. I can write faster than I can type on my Thunderbolt or even my Epic 4G. Plus, being able to draw little diagrams, doodles, or even write sideways easily is still the provenance of analog notes.
Solutions do exist for those of us who need a bridge between paper and screen for our notes, such as the Echo Smartpen. However, for that you'll need to buy a special pen and special paper. Japanese stationery maker Kokuyo eliminates one of those needs with the CamiApp. The company creates special notebooks that work in conjunction with the app (currently available for iOS and later this month for Android) to digitize handwritten pages and import your notes to Dropbox or Evernote.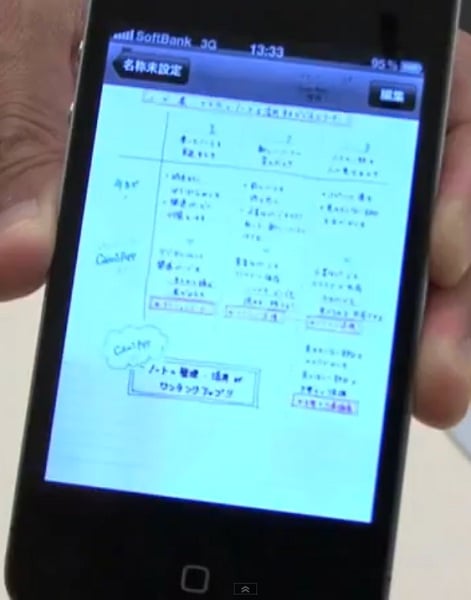 The neat thing about the app is that it can compensate for odd angles, so even if you don't get the notebook exactly lined up in the shot, the image it generates won't be distorted. You can also add little markers to the corner of pages that act as tags, which the app recognizes.
Some note editing is possible, though it doesn't seem from the video below that CamiApp does any kind of handwriting recognition or OCR. You can just add markings within the app, erase things, etc. The app saves notes as JPEG files, which you can share or add to Dropbox and Evernote.
This isn't as robust a system as the Echo Smartpen, of course, but should be useful to people who can't quite let go of paper in this digital age.
CamiApp is available in English on the App Store and will only work with the special notebooks from Kokuyo. Amazon and JetPens sell some Kokuyo products, though not the CamiApp books yet. You can probably find them in Kinokuniya stores in the U.S.
Hat Tip: TechCrunch