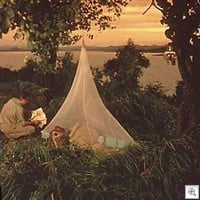 So it looks like one of today's themes will be mobile computing in the great outdoors. I saw this article on Yahoo News proclaiming that more and more campsites are now offering WiFi as an amenity. Good news if that is what you are looking for. But here's my question. If I'm heading off to the great outdoors, I'm planning on going off the grid for the duration. I used to love to camp but haven't had the time to do so for a number of years, and if I did get the opportunity, I think I'd like to have the luxury of not worrying about lugging my mobile gear with me.
But that's me. What about you? Which end of the outdoor mobile spectrum are you on? Are you like Steve "Chippy" Paine, who is creating his own solar mobile hook-up? Or do you prefer to un-wire while camping and roasting marshmallows over an open fire?

As an Amazon Associate I earn from qualifying purchases.