Can an iPad Replace a Laptop at College?
"Can the iPad replace a laptop at college?" is a question the GottaBeMobile team hears all too often as parents and students look to cut the cost of heading back to school by skipping a laptop and buying a refurbished iPad for as low as $319.
It's tough enough to pick a laptop, especially with Windows 8 Ultrabook Convertibles in the picture offering a tablet and a notebook in one, but with the iPad and iPad mini in the picture students have a lot of options.
Tablets are great for many things such as playing games, taking notes and so on but it is debatable if they can really replace a laptop in a college setting.
To test if an iPad can replace a laptop at college, I used the iPad for taking notes, writing papers and studying to see how it can meet the needs of a college freshman, and where it falls short.
Taking Notes on the iPad
The iPad is great for many tasks and taking notes is one of them. One of the biggest advantages the iPad has over a traditional laptop is the size of the device. Many college classrooms have extremely small desks, and for students with larger laptops, fitting them on the desk is a tight squeeze.
In terms of note taking itself the iPad does a very good job at competing with a laptop. The onscreen keyboard is adequate at taking notes but has its flaws. For many (including myself), taking notes with a physical keyboard is much quicker than on a touch screen.
Read: iPad Keyboard Cases
This being said there are many keyboard cases on the market that basically make taking notes on either a laptop or iPad the same experience. One of these cases is the Kensington KeyFolio Pro 2 and it is one that I use daily to take notes in class.
Combined with apps like iAWriter the note taking power of the iPad is better than on a laptop alone. The increased mobility, same typing speed (with external keyboard), and size of the device make using an iPad for notes better than a traditional laptop.
Read: Essential College Note Taking Apps for iPad
The iPad also offers access to free and cheap note taking apps that can record a lecture and keep the written notes in sync with the audio.
Writing Papers on the iPad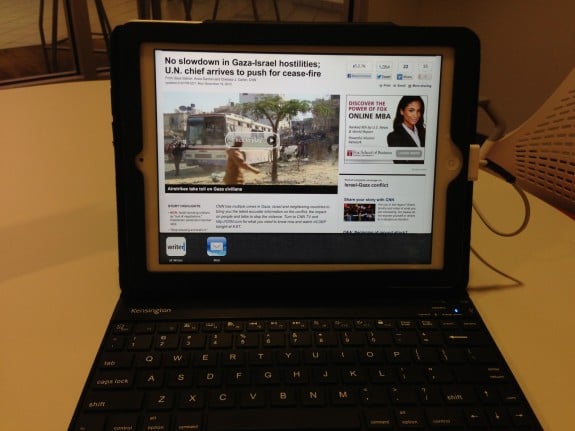 Another area that is imperative for college students is writing papers. Writing papers on the iPad is possible, but there are definite drawbacks
The on-screen keyboard is good, but for longer writing such as a paper a bluetooth keyboard would be an appreciated addition. Even then, the keys on most iPad keyboard cases are smaller an offer a less comfortable typing experience than full-size keyboards.
Something that does not work as well with the iPad is comparing documents. On a computer looking at multiple documents and still being able to compose a document is not an issue but for an iPad this is a challenge. For example, if working on a research paper there are several tabs open in Safari, but to continue adding to the paper the user has to switch between the applications. Some apps offer side-by-side comparison with a built-in browser, but don't compare to a laptop experience.
Read: Best iPad Accessories for College
Also another issue with writing papers on an iPad is saving and printing documents. Depending on the app used to write the paper, the only way to save the paper outside of the app would be to a service like Dropbox or iCloud. This can become an issue if the document needs saved in a different file type.
Also in terms of printing the iPad will print documents but only to an AirPrint capable printer. Students should invest in a Bluetooth or AirPrint printer.
Students that use the iPad to replace a laptop at college should plan on spending time in the computer lab to finish and print papers, or make friends with someone who brought a laptop and a printer.
Studying on the iPad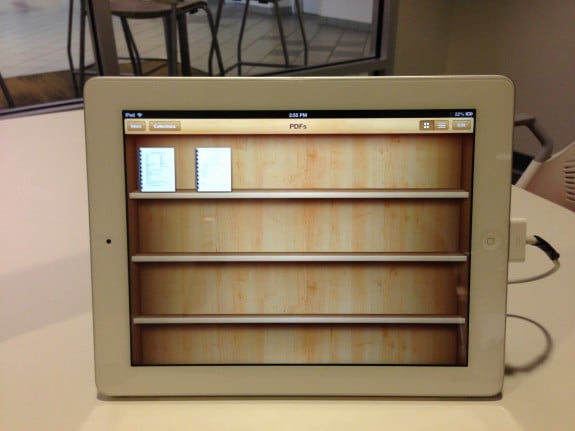 For studying the iPad is a wonderful sidekick. With the iBooks app reviewing a syllabus or homework pages is a breeze. The simple interface of the iBooks app also makes finding all the PDF documents for classes easy.
The iPad's portbility makes it a great study tool. This is one area where an iPad can easily replace a laptop at college. The battery life on most laptops is short compared to the iPad's 10-hour battery and the iPad is more portable than most laptops.
Battery life limits study sessions on my two-year old Mac unless I find an outlet. With the iPad I can go a couple of weeks before needing to recharge it, depending on my use, which is really nice.
There are also apps like Evernote Peek that helps turn the iPad into a great study companion.
Can the iPad Replace a Laptop?
Overall the iPad is a great device for college students, but can an iPad replace a laptop at college?
That depends on the student. There are still areas where a laptop is a better choice, for items like writing papers, comparing documents and printing, but the portability and app selection make the iPad a worthy contender.
Students that plan to take courses in fields with specialized apps may not be able to replace a laptop with an iPad. When it comes to programming on the iPad or photo editing on the iPad, students won't be able to use the same tools as the rest of the class, causing problems. The same goes for special software for stats class, dietetics and more.
For now, the iPad is not going to replace a laptop for most students, but it can be a laptop replacement for many college tasks like studying and taking notes.
Students could use an iPad while on-the-go and keep an older, possibly heavier laptop in the dorm room.