Can an iPhone 6 Plus Camera Replace Your Point and Shoot?
The new iPhone 6 Plus Camera stands out as one of the best feature upgrades for the phone, but is the camera good enough to replace that point-and-shoot camera that many people still carry around? The iPhone 6 Plus camera alone led some iPhone 6 buyers to go with the larger iPhone 6 Plus over the smaller iPhone 6 because it comes with optical image stabilization. Optical Image Stabilization helps reduce camera shake in low light settings, like indoor shots or at night shots. The lens vibrates when a user taps on the camera's virtual shutter release button or the volume key, but OIS helps reduce this vibration.
The iPhone 6 Plus camera does a great job of giving users some of the best smartphone camera pictures. Until now, many photography enthusiasts enjoyed the camera on the iPhone, but still used a regular camera for important shots. It's one thing to grab a selfie with friends at a restaurant, but would people want to trust a phone camera to take pictures of their kid's graduation?
We'll show some picture comparisons and then discuss the benefits of one over the other.
Picture Comparisons
Picture quality will win out over any other issue when it comes to comparing two cameras. So here are a few samples of shots taken with a Sony NEX 6 advanced compact camera and then the same shot taken with an iPhone 6 Plus. The Sony goes for about $550 on Amazon, and it takes some wonderful shots. Click any image to see a full sized shot unedited.
First, here are a pair of close up shots in medium light.
It's hard to decide which one offers the better image quality. The Sony gives only slightly better color accuracy.
I took the shots above of a friend's kid catching some zzz's at my son's soccer game. The stadium lights came on, but it was a low light situation and I sat just a few feet from the boy. Notice how much brighter the iPhone 6 Plus image looks compared to the Sony shot below. It's also a little warmer, but the Sony shot looks more accurate.
The top shot comes from the iPhone 6 Plus. See how much further the goal looks. We sat equal-distance from each goal. The Sony shot on the bottom zooms in using the optical zoom lens, while the iPhone 6 Plus doesn't offer any zoom. A user can pinch to zoom, but that's digital zoom and it makes the shot look washed out and blurry compared to optical zoom.
Don't pay any attention to the zoom of these shots. Instead notice the exposure of these unedited images of a pair of shoes outside my house at night with a dim porch light turned on. The Sony shot, again, looks darker in auto mode. The iPhone 6 Plus camera boosts exposure automatically in low light, making the image look better out of the camera without any changes in photo editing software.
The iPhone 6 Plus shot on top looks brighter again, but this time the blue sky's color changed a lot from the actual scene. The Sony gives a more faithful rendering of the scene. A bit of editing or using the advanced exposure settings on the camera will produce a better image.
I took the above image using the Panorama mode of the iPhone 6 Plus. I then exported it to Snapseed and gave it the stylized HDR look. This is something a photographer can't get on a Sony NEX 6 Plus. Other advanced point-and-shoot consumer level cameras offer panorama modes and in-camera HDR, but editing on a touchscreen device works so much better than using the dials and buttons most cameras use to edit images.
The video above comes as a result of the iPhone 6 slow motion mode that shoots at 240 fps. The Sony NEX 6 doesn't include a slow motion mode. Some consumer level point-and-shoot cameras do.
Comparing the above images leads to some conclusions.
The iPhone 6 Plus camera takes great shots straight out of the camera without any editing. Adding a little editing using the built-in editing tools, or a third-party tool like Snapseed, makes producing wonderful snapshots easy.
The iPhone 6 Plus offers some modes that most consumer-level cameras don't, like the built-in panorama, filters, slow motion video and ability to share over LTE to social networks or photo backup sites like Flickr or 500px.
Even an expensive $500+ advanced compact camera, which takes better shots with more faithful color accuracy and better zoomed in shots, doesn't offer enough to make it worth the extra cost or loss of convenience of carrying around a second device just for taking photos. Leaven the camera home except for special occasions.
The iPhone 6 Plus handles low light really well.
Image and video quality isn't the only thing to consider, though. There are other features that matter when it comes to comparing the iPhone 6 Plus camera and a point-and-shoot.
Benefits of the iPhone 6 Plus Camera Over a Regular Camera
Replacing the camera with an iPhone would make life more convenient in some ways, including…
Fewer accessories – Who wants to carry another charger for their camera? Using the phone means not worrying about keeping up with two devices or flash cards to store pictures.
Easier photo transfer – Move photos to the cloud or back them up to a Mac via iCloud more easily than removing and SD card, plugging it into a computer or even turning on the camera's Wi-Fi feature.
Editing photos immediately – Some cameras offer in-camera editing features, but they're never as good as apps like Snapseed, Fotor or the built-in iOS photo editing features.
Big preview screens – The large 5.5-inch screen gives a bigger preview of a shot than any point-and-shoot camera screen.
iPhone price – Even though the iPhone 6 Plus costs more than the iPhone 6, it's still cheaper than a good point-and-shoot camera, which can cost anywhere from a couple hundred dollars to as much as a grand. Most people will already buy a phone, so adding $100 to get the iPhone 6 Plus instead of the cheaper iPhone 6 only adds $100 instead of hundreds for a good camera.
Benefits of a Regular Camera Over iPhone 6 Plus Camera
The iPhone 6 Plus Camera takes great shots, but using a regular point-and-shoot camera does come with some benefits.
Hand holding stability – It's easier to hold a camera designed for hand-held pictures
SD Card storage – Even with a 128GB iPhone 6 Plus, filling that up with apps and videos can limit users.  Meanwhile, users of a regular digital camera can swap out SD Cards infinitely. They're also easy to find at grocery stores, pharmacies or technology stores.
Lenses – most point-and-shoot cameras come with one lens built-in, but higher end compact cameras let users swap out lenses. Even the ones with a single dedicated lens will often come with a huge optical zoom range. The iPhone's camera only zooms digitally, which means the image gets blown up by making pixels bigger, so shots don't look as good.
Batteries – Most point-and-shoot cameras come with a replaceable battery while the iPhone 6 Plus doesn't. A user can get a battery case, but it would be easier to carry a few camera batteries and swap them out when needed instead of pausing to charge the phone battery.
Dedicated settings buttons – The setting controls in the iPhone 6 Plus camera make it easier to get better shots in challenging situations, but nothing beats dedicated settings buttons for things like Aperture and Shutter priority, scene modes or other settings buttons on high-end point-and-shoot cameras.
Hotshoe Accessories – A camera like my Sony NEX 6 comes with what's called a hotshoe, a connector that lets the user add accessories like a mic for video recording or a flash for night-time or in-door shots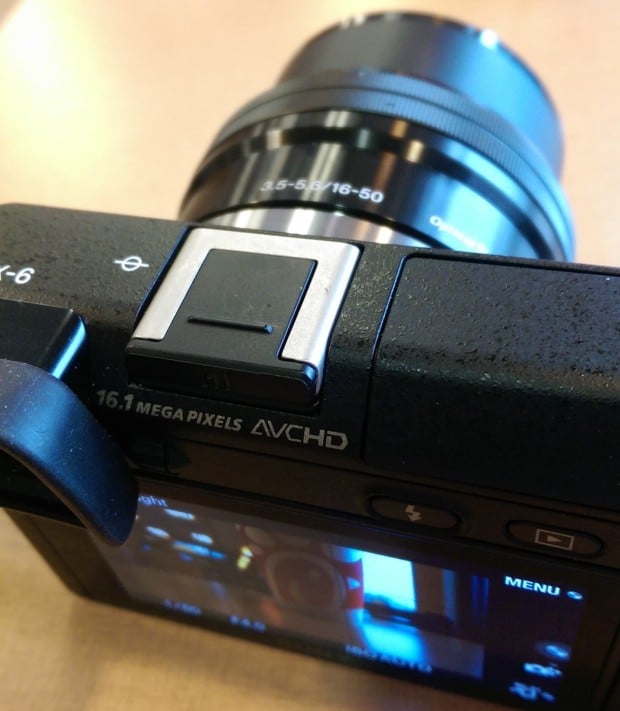 Conclusion
The iPhone 6 Plus can replace a point-and-shoot camera. There's no good reason for an iPhone 6 Plus owner to buy a cheap camera. But it makes sense to own a good camera with zoom lenses for those who want really great shots. Advanced photo enthusiasts will want to own an advanced compact camera or DSLR, but they can leave it home and use the iPhone for the snapshots that they plan to share online. As is, the iPhone 6 Plus takes excellent pictures and video and can easily replace most of the point-and-shoot cameras the average person uses. With a camera tripod like the Joby Griptight XL mentioned above or an Ollo Clip (when an iPhone 6 Plus version finally comes out) iPhone users might also get help for some zoom or macro shots.

As an Amazon Associate I earn from qualifying purchases.