Can the Galaxy Tab 2 7.0 Take On The iPad at Half The Price?
Recently the Associated Press published an article claiming that for most people the word iPad is synonymous with "tablet". The implication being that there aren't any other tablets worth people's brainspace around, thus the iPad is the default. However, I think both Amazon and Barnes & Noble can cite a few million reasons why that thinking is wrong.
The sub-$250 tablets these two players introduced are big hits and proved that some consumers care less about the best specs and more about what's affordable. But as good as these devices are, they don't offer the full tablet experience.
Samsung is another big player in the Android tablet space (they have the lawsuits to prove it) and with the introduction of the $249 Galaxy Tab 2 7.0 the company is betting that a low price can once again trump better specs. But even though the Tab 2 isn't a premium product it still runs the newest Android OS and has most of the features people expect.
Will that translate into consumer love?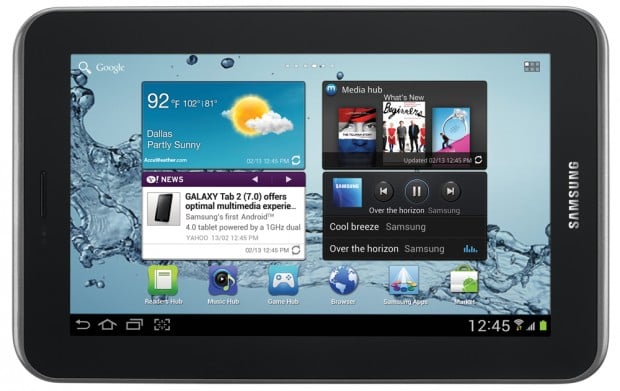 The biggest hurdle the Tab 2 faces is that Android still isn't as user-friendly as iOS. Samsung's TouchWiz user interface makes it easier to use and understand, true. But for things like syncing media and files, Kies is a sad sack next to iTunes. In general, Android assumes a level of technical knowledge that iOS doesn't.
(Related: New iPad 3rd Gen Review)
One thing Samsung does right is give users ways to easily purchase and download content via the Music and Media hubs. The selection isn't as vast as iTunes but does include a lot of new and popular movies and shows. Android users also have other choices when it comes to media via Google, Netflix, HBO and more.
Like Apple, Samsung does a good job of ensuring that their tablets can communicate with other products they make easily and seamlessly. The difference is that Samsung makes a lot more stuff than Apple does, including TVs, cameras, speaker docks and more.
(Related: Samsung Galaxy Tab 2 7.0 Review)
On the app front Apple has the largest selection. Android's 450K+ app count is respectable, and most of the big name apps are on both platforms. However, iPad apps tend to be better than their Android counterparts. And Google hasn't done much to wrangle the tablet apps available in the Google Play Store in a meaningful way.
Then again, both the Kindle Fire and Nook Tablet have tiny app stores by comparison and customers don't appear to mind much.
(Related: Buyer's Guide – Pick The Perfect 7-inch Tablet Under $250)
The software, OS, media and app issues are important, but just as important is the question of design. I'm not talking aesthetics, but size. The iPad is on the big side. And it's a bit heavy for using one-handed or for long periods of time. The Galaxy Tab 2 fits in one hand and is just 12.2 ounces. The 7-inch display may not have the same resolution as a 40-inch TV, but it's great for games, reading books, surfing the web. You know, tablet stuff.
The big question people love to ask is will the Tab 2 "kill" the iPad? No, of course not. However, keep this in mind: as Josh Smith pointed out earlier today, back in 2009 there was a tipping point for Android phones when the Droid hit Verizon Wireless.
Motorola gave consumers a compelling reason to take a look at Google's mobile operating system and showed other manufacturers how the whole Android phone thing could be done right.
Now Android enjoys a majority smartphone marketshare and doesn't really have to worry about "killing" the iPhone.
We could see something similar in the world of tablets. The Galaxy Tab 2 7.0 is one of the most compelling arguments for the feasibility of Android tablets that's come along in the past year. Will it be the tablet that instigates a "Droid Moment"?

As an Amazon Associate I earn from qualifying purchases.