Can the Microsoft Surface Pro 3 Really Replace Your Laptop?
Microsoft released the latest in their Surface line recently with the best one yet, the Microsoft Surface Pro 3, advertising the 12-inch tablet as "the tablet that can replace your laptop." But can it really?
After using the Microsoft Surface Pro 3 as a primary laptop it replaced a clunky Windows 8.1 Toshiba laptop at work and a brand new 13-inch Apple MacBook Pro with Retina Display with only a few compromises. We'll look at the strengths and weaknesses of using this beautiful tablet as a primary laptop.
Here's Microsoft's commercial.
https://www.youtube.com/watch?v=CTo5DfBtWkY
Microsoft Surface Pro 3 12-inch Display
Microsoft included a beautiful 12-inch "ClearType" display with a better-than-HD resolution of 2160×1440. They call it ClearType, after the technology that makes text look super crisp on a display in Windows. The device uses a 3:2 aspect ratio like the iPad, older style laptops and pre-HD TVs.
The Surface Pro 3 gives users a precise touchscreen with an active digitizer powering the Surface Pen. This makes input easier on tiny buttons and improves handwriting recognition.
The display looks great, like any $1000 computer should. Readers can comfortably see the crisp and readable text even at smaller typefaces. Colors display accurately and look bright and rich, even in direct light.
Bright light makes it hard to see anything other than the user's refection, but changing the angle of the tablet's firm but flexible kickstand usually fixes the problem.
Microsoft Surface Pro Type Cover
Most external tablet keyboards don't work as well as a built-in laptop or dedicated desktop keyboards, and that's true with the Surface Type Cover ($129.99). It takes some acclimation, but after a while typing gets better thanks to well spaced keys, a backlight for night typing and an acceptable touchpad below the spacebar.
After switching from Windows to a Mac and then back with the Surface Pro 3, I like seeing a dedicated delete, page up/down, home, end and arrow keys. Mac and iPad keyboards don't come with these keys.
If Microsoft wants to advertise the Surface Pro 3 as a tablet that can replace a laptop, they should bundle the keyboard and tablet for one price. The 128GB model costs $999 and the Type Cover adds $130. There's no excuse for Microsoft not putting both in the box for about $1100. I can just see some unsuspecting victim of the cool commercials buying the Surface without the keyboard knowing better. When she gets home to open the box she'll wonder where the keyboard went.
The Type Cover touchpad suffers the same problem many smaller laptops suffer. It sits too close to the keyboard, causing accidental touches. This inserts the cursor at another point in the document leading to unnoticed typos.
Change a setting to fix the sensitivity of the touchpad by swiping in from the right side of the screen to show the Charms Bar. Tap Settings then Change PC Settings at the bottom left corner. Tap on PC and Devices from the list on the left then tap Mouse and touchpad. Settings offers three strategies for fixing this problem.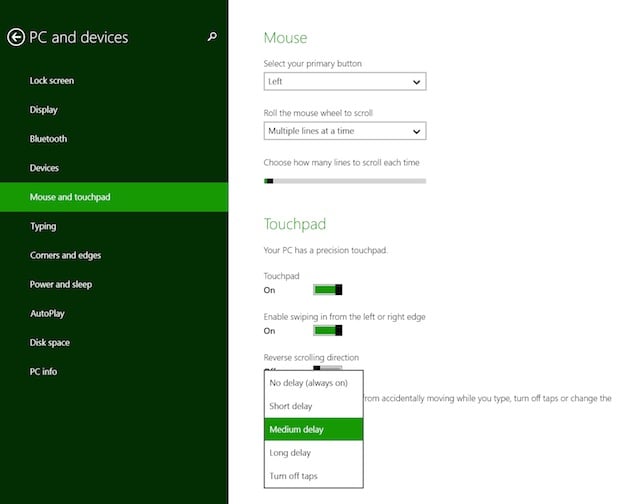 Turn off the touchpad and use the touchscreen for all pointing. That's probably going too far, but some may prefer it.
Tap the drop down box at the bottom of the screen and choose Turn off taps so only pressing to click registers a mouse click in Windows. This makes the touchpad do mouse clicks, but never register a tap as a click.
Change the delay between when the user taps on the touchpad and when it starts to respond. The same drop down box offers options for No delay, Short delay, Medium delay, Long delay and Turn off taps. Set it to Long delay to help fix the problem.
Microsoft Surface Pro 3 Touch Screen and Pen Input
Many laptops today come with touchscreens for Windows 8.1, but few offer a pen input like the Surface Pro 3. This helps with precise selections and touches on controls in Windows software not yet optimized for a touchscreen. We also get some nice handwriting recognition with the great Surface Pen. Using handwriting recognition input in laptop mode presents a challenge.
The lack of a Surface Pen holder is more ridiculous than not selling the Type Cover along with the Surface Pro 3. People must buy the Type Cover to get the terrible little pen holder. It sticks to the Type Cover or the tablet with some adhesive. If people lose their pen when the terrible holder comes off it will cost $55 for both the the $5 pen holder and a new pen at $50.
Microsoft Surface Pro 3 Design
The Microsoft Surface Pro 3 design quality means users get a premium laptop and a large-screen tablet in one device. The magnesium alloy casing, excellent display and fast SSD storage makes this one of the best ultrabooks available today for Windows users. It's more durable than the low price Chromebooks or budget Windows laptops. It compares nicely to a MacBook Air in speed, quality and durability, even if the design doesn't look as attractive. The Surface Pro 3 looks industrial, while the MacBook Air looks sleek.
The buttons all feel well placed and don't get in the way. Connecting USB accessories or a mini display-port cable to the upper right side may get awkward since the cables might get in the way hanging off the upper edge instead of the lower edge. It's only a minor annoyance.
A traditional laptop charger does two things well – charge the computer and take up space. The Microsoft Surface Pro 3 charger is bulky like a traditional charger, but Microsoft designed it with a USB port for charging a phone, accessories or another tablet. This means one less plug to pack in a bag.
Making Connections with Surface Pro 3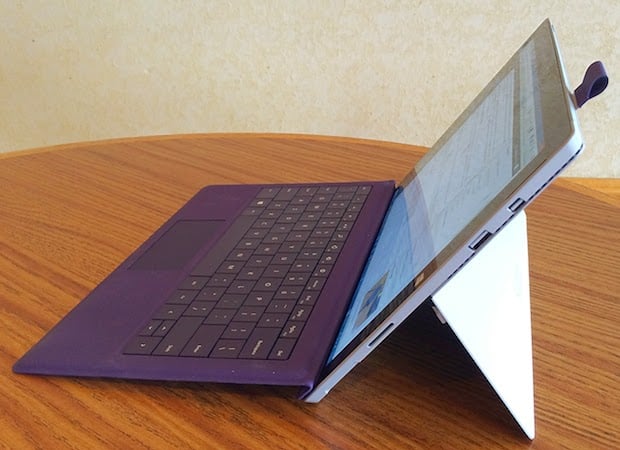 Microsoft sells $40 adapters to plug in an HDMI or VGA cable to hook up to an external monitor or projector. Windows 8.1 Pro and the Surface Pro 3 supports Intel Wi-Di (wireless display technology). The Actiontec SBWD100A01 ScreenBeam Pro Wireless Display Receiver for $69.99 at Amazon works great hooked up to a projector at work and it's more convenient than plugging in a cable.
Plug in USB accessories or drives or plug into Ethernet with the another adapter that's also $40 from Mircosoft. Most modern laptops come with more USB ports and dedicated video or Ethernet ports, but this is less important today than it used to be. Still, that's one of the compromises Surface Pro 3 owners must make.
There's a $200 docking station that buyers can pre-order for shipping, hopefully by the end of summer. It makes all of these connections easy. Just slide the tablet into the dock and instantly connect to external speakers, a monitor, Ethernet, hard drives or other USB accessories. The Surface Pro 3 also uses 802.11 ac/b/g/n an Bluetooth 4.0 for wireless connections to a Wi-Fi network or Bluetooth accessories.
Price Comparison and Bottom Line
The current 11-inch MacBook Air with 128GB like my Surface Pro 3 costs $899 but comes with a slightly smaller screen and users don't get a tablet mode with handwriting and touch built-in. The screen also won't look as good, since the MacBook Air resolution measures 1366×768.
Microsoft offers the Surface Pro 3 starting with 64GB of storage and a 4th generation Intel Core i3-4020Y 1.50 GHz and Intel HD Graphics 4200. That all adds up to a $799 laptop, about average for introductory level premium Windows laptops. Add a larger SSD, faster processor and more memory and the price jumps to as much as $1949 for 256GB of storage, 8GB of RAM and an Intel Core i7 processor.
With only a couple of compromises, the Microsoft Surface Pro 3 replaced my old Windows 8 notebook and a MacBook Pro quite well. I'm not ready to sell my MacBook yet, but I'm very happy with Microsoft's 2-in-1 device.

As an Amazon Associate I earn from qualifying purchases.