Can't Hit Those Control Buttons On Your UMPC In Low Res? Try This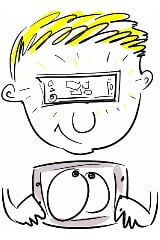 In a blog post talking about screen resolution and how the human eye works Vikram Madan is hailing a new "pseudo-power-toy" for Ultra-Mobile PCs. The UMPC Scroller utility will correct one of the bizarrest problems that UMPC owners are more than familar with. In the native low-res screen resolutions many dialogue boxes pop-up with the contorls, (OK, Cancel, etc..) off the screen so that you can't access them without moving to a higher resolution.
The UMPCScrollbar Utility runs in the background and pops up an on-screen scrollbar whenever it detects a non-reisizable dialog taller than the available working screen estate. The scrollbar then allows you to nudge the dailog buttons that would otherwise be inaccessible.
This is Vista only. I haven't tried it out yet, but if it works as advertised, this will come in quite handy.
UPDATE: Got an opportunity to load this up and try it out. It works as advertised. Quite a find.
Check it out here.

As an Amazon Associate I earn from qualifying purchases.