Captain America: The Winter Soldier Comes to iPhone and Android
The latest Captain America movie in the long line of exciting Marvel films is about to hit theaters, but not before fans can enjoy the brand new title on their iPhone or Android smartphones and tablets.
The popular game developers Gameloft have released yet another movie tie-in game for mobile devices, only this one promises to offer some of the best graphics from any of its previous releases. Before fans head to theaters on April 4th to catch Captain America, fight some villains in the palm of your hand.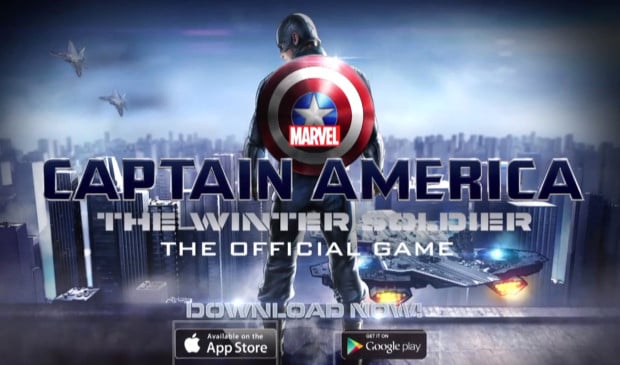 Available for iOS and Android users can enjoy this game on the iPhone or their shiny new HTC One (M8) as Gameloft just launched the title across both platforms, something we don't see too often. For those following their past releases, the graphics are never too exciting, but this could change things.
For one we're hearing this isn't just a movie tie-in, and Marvel actually helped co-write the game to keep up with expectations, even if it doesn't follow the movie too closely. You wouldn't want it being a spoiler giving things away, but gamers will still enjoy the story. Gameloft employed a cell-shader style for the graphics for that "comic book look and feel" similar to Boarderlands or other popular games as of late. Here's a quick look.
Users will be playing as Captain America or other fun S.H.I.E.L.D. members in this high-action mobile game, and fighting some of the most popular villains and enemies from all of Marvel. The game is described as an RPG with a slight MMO feel, and the only thing we're hearing that's quite odd is the entire game is played in portrait mode. As in, you can't turn the phone sideways for a full landscape mode while roaming the town and fighting enemies.
As usual with most Gameloft games, this is free to download and play, but after the first few levels you'll be asked to spend $3.00 to continue. That, or spend some money through in-app purchases to keep up the fun. There's multiplayer, leaderboards, and even time-trials in certain levels, so give it a try today on Android or iPhone.
Captain America on iTunes
Captain America on Google Play

As an Amazon Associate I earn from qualifying purchases.