Carved Cases Look Beautiful and Protect Well
Carved Cases work great and add style and elegance to mobile devices. The company makes beautiful wood-trimmed cases and skins that they carve from natural wood, as their name suggests.
We tested a few of their snap on cases for our favorite mobile devices. The cases attach to the back give us a low profile snap-on protective covering. We tested models for the iPhone 5, Samsung Galaxy S4 and an iPad mini, but buyers can get them for many other devices. We love these cases.
The cases get handcrafted in Elkhart, Indiana from real wood. People who like to "buy American" instead of buying low-quality accessories built in sweat shops overseas will enjoy knowing their cases are made in-country. The quality shows in the three we looked at.
Random Puzzle Case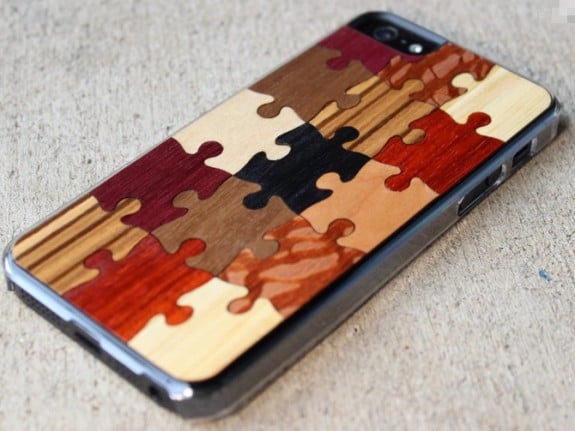 The Random Puzzle Carved Case for iPhone 5 adds a playful elegance to the back of our white iPhone 5. Every person who looked at it loved the design. The case uses different wood styles cut into puzzle pieces and then pieced together. They pressed them into the back of a clear hard plastic case that protects the corners and back of the iPhone 5. All the necessary cutouts make these cases easy to use with any accessories. We had no problem accessing buttons or switches on any of our devices. The case feels good in the hand thanks to the pattern of the puzzles pieces that fit together perfectly. The wood edges won't cause splinters. Get a Random Puzzle Carved Case for $29. It comes with clear with black or white trim. Add $2 for a matte black or white finish around the edges instead of clear plastic.
Reconstituted Ebony Wood Case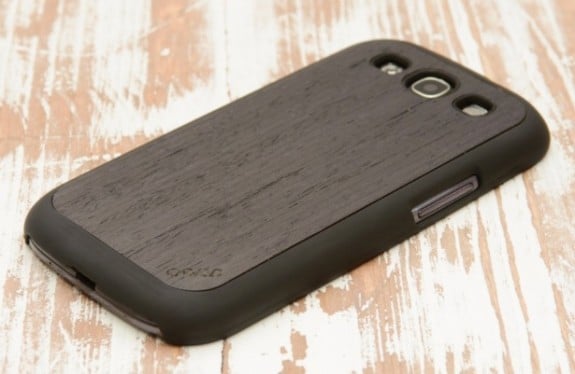 Our Samsung Galaxy S4 looks awesome inside the Carved Case Reconstituted Ebony wood case. The edges come with a black matte feel. The wood on the back is black reconstituted wood. Thanks to the sprayed coating and sanding on these cases, the case feels like wood, but it's still smooth enough to not annoy the most tender skin. Buy the Carved Case Reconstituted Ebony wood case direct for $26.
Padauk Case
The Padauk iPad mini case looks awesome, making it our favorite of the three. It features a beautiful mahogany color. They are a few other designs and cases for other devices. This model sells for $36.
There's just one complaint about the iPad mini case: there's no cutout for an Apple Smart Cover. It seems like sacrilege to put out such an ugly cover with such a beautiful back on an iPad mini, but we don't like exposing the screen to damage. We'd prefer it if Carved Cases made a model with a matching smart-cover-like design. Then we'd call the Carved Case for iPad mini the perfect case!
Carved Cases offers many styles, including full wood cases and wood skins to cover only the back. They'll even create custom cases with a logo or other design. We're sure most people will love them.