Casey's Contraptions Could Be Rovio's Next Game
In Rovio's 1 billion Angry Birds downloads video the studio hinted at its next game with a blonde-haired boy and Rube Goldberg machines, it's possible that Rovio's next game could be Casey's Contraptions.
As Forbes noticed, the blonde boy from the end of the video is Casey from Casey's Contraptions HD, an iPad game about creating Rube Goldberg Machines. It's possible that Rovio will publish the iPhone version of the game, or whatever the next version of it is.
To put some force behind the idea, Casey's Contraption developer Neil Llopis tweeted "Before rumors start flying, Rovio is a perfect gentleman. Not a Zynga at all. Don't worry, all is well :)." It certainly sounds like Llopis is comfortable with working with Rovio on his game.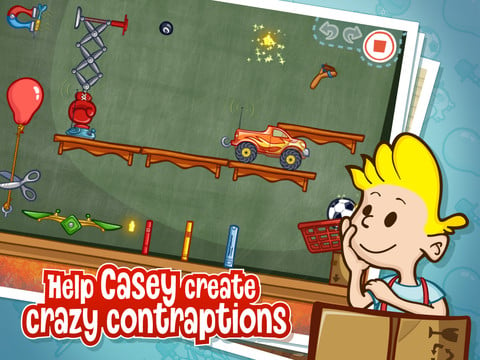 Casey's Contraptions is a good complement to Angry Birds, it's another physics-based puzzle game with a three star rating system. It might not see a billion downloads like Angry Birds, but it does have charm and a fun mechanic.
If Casey's Contraptions is the next game from Rovio, it will be the first non-Angry Birds game the company publishes since the bird-flinging game debuted in 2009. Rovio did have a number of games before Angry Birds, but none were as successful. It will be interesting to see how Rovio handles a brand new non-avian-related game.
Unless Rovio hires Llopis, Casey's Contraptions will also be Rovio's first game release as a publisher. The studio previously worked with Chillingo to publish its games until it started self-publishing the popular Angry Birds. Flinging birds at pigs turned the developer into a publisher, and it's nice to see the company putting its weight behind other independent games.
We just hope that Llopis is right that Rovio is nothing like Zynga. That last thing the mobile gaming market needs is another evil publisher.