Cassette Bluetooth Adapter Brings Old School to New School
Remember those cassette audio adapters that allowed you to plug in your MP3 player to your old-school cassette player in your car? ION Audio is taking things a step further and have introduced a cassette Bluetooth adapter, which turns any cassette player into a Bluetooth audio receiver.
The device is rechargeable through a microUSB embedded on the cassette and ION Audio claims that you'll get up to six hours of battery before you'll have to recharge it. What's perhaps the most convenient feature is that the cassette automatically turns on and off when inserted and ejected.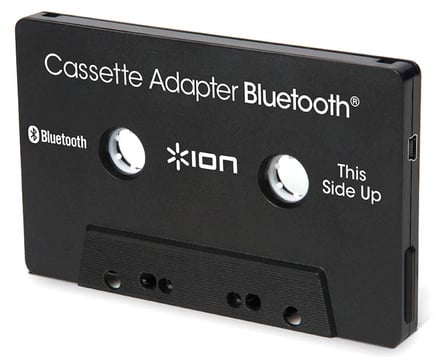 ION Audio says that you can also use your car's speakers to listen to phone calls, but you'll have to make sure that you're in speakerphone mode on your handset.
Granted, this product might not be targeted toward a lot of people, since most drivers have fairly newer vehicles that don't have cassette players anymore, but for those still rocking an old-school setup — whether in the car or at home — this Bluetooth cassette adapter will instantly bring it into the 21st century.
Unfortunately, pricing and availability details are not yet disclosed, but we're guessing that this will be a fairly cheap accessory, and it certainly won't cost as much as what it would cost to buy an all-out bluetooth-enabled head unit for your car.

As an Amazon Associate I earn from qualifying purchases.