Catching up with the ExoPC Slate
On the subject of Windows 7 ui overlays, I caught a tweet from Mike Cane the other day about the ExoPC Slate, which we first noticed back in February. While not open for consumers yet, the project appears to be progressing with updated specs and a defined ui.
New specs are summarized below. Processor and graphics got the usual mandatory bump. No mention of onboard mobile Internet, but it was reported a few months ago it would be an option along with GPS. Most interesting change is the larger display, which is described as capacitive and pressure sensitive. Display is now 11.6″ at 1366×768 compared to the previous 8.9″ at 1024×600. The increase appears to have been done to better accommodate the custom ExoPC user interface.
ExoPC debuted with the goal of offering a touch-centric interface with custom apps. That goal appears much more defined with a home page full of button icons as well as control bars on each of the short edges. Unlike other tablet interfaces that rotate the entire display to match the orientation, ExoPC only rotates the central content and leaves the control bars on the short edges. Thus, the sidebars that work well in landscape mode do not become content-crushers in portrait more. Good move on their part.
Have to admit I'm not a fan of the home screen filled with buttons. Generally speaking, I don't care for the icon-only approach; I recognize apps by names more easily than by icon. Having them packed in so densely turns into a game of "Where's Waldo." (FYI, on my Tablet PC, I run mostly icon-free using ritePen as my primary app launcher and hiding desktop icons with Fences.)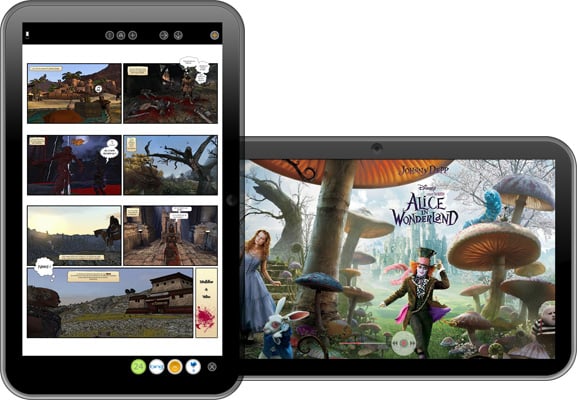 That aside, their whole platform approach of building their own device and interface layer with developer support is interesting. Gives them the opportunity to offer something unique to the tablet scene without losing the versatility of Windows. But unless the outer edge of the device is made out of glass or transparent plastic, the product mock-ups do not convince me the ExoPC can be safely moved out of vaporware status.
ExoPC Slate
OS: Microsoft Windows 7 Home Premium with ExoPC UI Layer and App Store
Display: Capacitive dual-touch, pressure sensitive, 11.6 inches, 1366 x 768
CPU/Graphics/Memory: Intel Atom Pineview-M N450 1.66 GHz – 64 bit support, Graphics Intel GMA 3150, BROADCOM Crystal HD 1080p, 2GB DDR2, SSD 32GB or 64GB
Wireless: Wifi 802.11 b/g/n, Bluetooth 2.1 + EDR
Ports: USB 2.0 x2, Audio jack, Mini-HDMI, Dock, SD/SDHC 32GB Max
Sensors: Accelerometer, Light sensor
A/V: 1.3 MP webcam, microphone, stereo speakers
Battery: 5 hours
Dimensions: 295 x 195 x 14.0 mm, 950 g