Celebrate Shakespeare's 450th Birthday with Mobile Apps
This year marks the 450th anniversary of the birth of William Shakespeare, considered by many to be the world's greatest playwright. His plays still dominate stages across the globe with an enduring popularity unmatched by any other writer for the stage. While there is no official record of his birthday, it is traditionally celebrated on April 23, which also happens to be the day he died 52 years later. He was baptized on April 26, 1564. The Bard of Avon wrote 37 plays and 154 sonnets. His popularity is matched, at times, with a debate as to whether he, or any one man, could have been responsible for the number of works accredited to his name.
This week will mark a number of celebration's of the Bard's life and work in schools, theaters, and some communities. It is also a good time to examine how mobile users can enjoy digital versions of his plays and poetry.
eBook Versions
Certainly those who prefer eBooks can find individual plays and sonnets, as well as collections of Shakespeare's complete works from Amazon, Google Play, and Barnes & Noble, in addition to many PDF versions from other sources. If all you want to do is read Romeo and Juliet or other popular titles, you can find free versions in the most digital book stores. Various editions of the titles are also available and cost anywhere from  $0.99 to $7.99 that include commentary, educational tools, glossaries and the other material. There are illustrated versions and plain text versions. There is even a Shakespeare Girl Edition of some of the plays.
App Versions
There are also Apps available that provide not just the text of the plays and poems but references such as glossaries and educational supplements as well. Some of those Apps are essentially eBooks wrapped in a package and called an App. Some are very nice packages.
Keep in mind that there are more editions for the most popular of Shakespeare's plays such as Romeo & Juliet, Hamlet, Macbeth, etc.. than there are for some of the less popular titles.
As a devotee of Shakespeare's work, who has directed several of his plays, I install or download a copy of the complete works on every mobile device I own. In addition I have several printed hard copies in my actual library. Shakespeare's complete works take their place alongside the Bible, the U.S. Constitution, and Mark Twain's collected works in each of my digital libraries in one form or the other.
Let's take a lot at how the three major mobile platforms, iOS, Android, and Windows fare when it comes to William Shakespeare.
The iOS platform offers the largest and richest collection of Shakespeare titles available among the three. Shakespeare devotees have a range of options to choose from on the iOS platform for the iPhone, the iPod Touch and the iPad. Quite frankly the iPad is a great device to read Shakespeare's words and also do more research. As mentioned previously you can download eBooks for the reader of your choice on iOS and there are so many different eBooks to choose from I won't begin to compare them all.
But there is a one eBook experience that may be worth taking a look at. It's from Sourcebooks and it is called the Shakesperience series. Created with iBooks Author, the series features editions of Romeo and Juliet, Othello, Julius Caesar, Hamlet, Macbeth, and A Midsummers Night's Dream. Each title costs $5.99.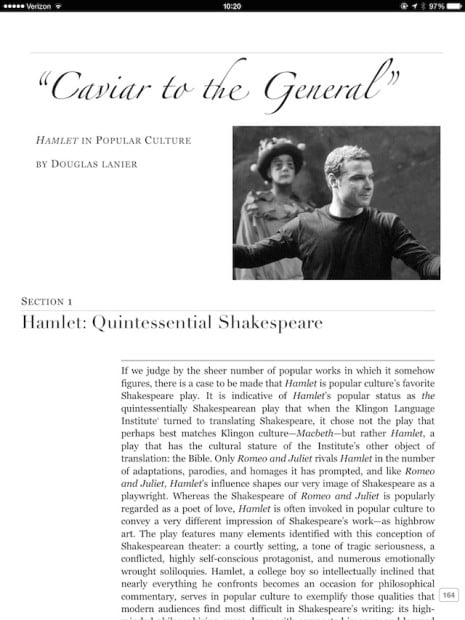 This series provides you with a somewhat immersive experience offering photos from famous productions, other artwork, and audio, including some from famous performers of Shakespeare.
As an example, Derek Jacobi narrates throughout the edition of Hamlet and you can also hear audio from Laurence Oliver's famous performance of the play in 1948. Highlighted text lets you touch on a word to see a glossary definition.
The iOS App Store also offers a range of Apps that include the plays of Shakespeare. If you do a search in the App Store for Shakespeare, you can scroll for hours looking at the range of Apps available. Again, some are free, and those with added features cost. And, yes, some have in-App purchases to add extra features to a free edition.
Again, I won't cover all of the various edition here, but I will highlight one compilation of the complete works. It's called Shakespeare Pro from PlayShakespere.com. The pro version costs $9.99. There is also a free edition called Shakespeare for iOS. (Note the free version is also available for Android.) You can compare the versions here.
Shakespeare Pro includes not just the 37 plays but an additional four plays that Shakespeare is believed to have collaborated on or is thought to have authored, in addition to 154 sonnets and 6 poems. There is a an easy to use Concordance for you to look up words you might not know. You can customize your reading experience by choosing colors and the types of illustrated covers for each play.
You can view the text as it appeared in a Folio edition (there were numerous versions of some of Shakespeare's plays published) or a more easily readable format.
You can activate a glossary that will deliver you definitions when you tap on a highlighted word. If you use multiple iOS devices you can sync bookmarks and notes via iCloud. It's quite a full featured digital edition of the Complete Works of William Shakespeare and I haven't even covered all of the features.
The Google Play Store also as a wealth of versions of the plays but less so when it comes to complete works compilations. Again the prices range from free to several dollars depending on what you are looking for, but you can find a free App or eBook of any of the play titles.
The Windows Store sadly trails far behind the other two platforms when it comes to available titles. While you can find Apps for the popular titles, many of the lesser plays are not available in App form.  But again, with Kindle and Nook Apps available you can find the plays through those book stores.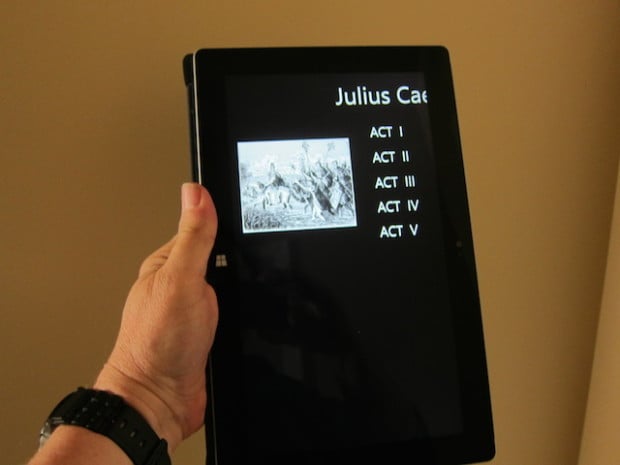 But there's more than just the plays or collected versions of the plays and sonnets. There are also a range of Apps for Shakespeare devotees on all three platforms. Popular categories are Shakespeare insult generators and Shakespeare quotations, as well as study guides for the various plays.
There is a cliché about William Shakespeare's plays that proves the cliché that most clichés have roots in the truth. Shakespeare's plays were written to be played on the stage and not read. Seeing them and hearing them spoken aloud has more power than reading for many. Audio bookseller, Audible as a collection of the plays, some dramatized, some just read by a single author. All give you an aural experience of the plays and poetry. The most popular plays have more titles to choose from, some including BBC radio performances. There are also study guides available from Audible as well, in addition to versions of Star Wars and other popular fiction as if done by Shakespeare.
Whatever your interest in William Shakespeare there is a wealth of ways to enjoy his plays and poetry on your mobile devices. If you're one of the many who don't care for his plays let me add this personal note. There's not much we experience in our daily lives that Shakespeare didn't explore and illuminate in his writings. Whether that be love and romance, politics, or social issues, Shakespeare's works tell us more about ourselves as humans, regardless of the time period, than many who have followed. I often say that 10th grade English teachers in the US are some of Shakespeare's biggest enemies because of the way his works are taught and the forced memorization of monologues. That's a shame, and reinforces one of life's lessons that history keeps repeating itself as humans keep forgetting the mistakes of the past. The world would be a better place, in my humble opinion, if there were a little more Shakespeare in all of our lives.