Cell Networks To Get Worse Before Improving After Hurricane Sandy
Cell phone networks will likely get worse before they get better for users affected by Hurricane Sandy according to a CNet report.
During a conference call this morning FCC Chairman Julius Genachowski said carriers currently report that 25 percent of cell sites in 158 counties across 10 states hit by the storm are down. That number could increase over time as the storm travels West to Michigan. The number could also increase as cell sites run out of backup battery power.
Those backup batteries will run out of power as local electric companies scramble to restore power. For many people the power won't come back for days, or maybe even weeks. Lower Manhattan, for example, will have to wait at least a few days before ConEdison can restore its power.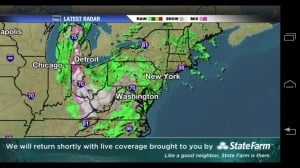 The cell outages also affect people who still have power but rely on cell sites that don't have power. For some it won't make a difference as their phones will switch to other nearby cell sites. For some in areas that never lost power, however, whatever Wi-Fi they can get ahold of is their only option for using their smartphones because of the downed networks.
More people using fewer cell sites puts a strain on the network when it's needed most.
The FCC advises people who can access cell networks after Hurricane Sandy to not have lengthy phone calls on the strained networks. The FCC urges people to use SMS and social media to talk to friends and family to tell them everything is okay. The FCC wants to make sure the cell networks aren't tied up when others try to call 911 to report emergencies.
Read: How to Make Your iPhone & Android Battery Last
The best option for users who don't have network access on their phones is to find a Wi-Fi hotspot where they can use social media faster and use services like Skype and Gmail on a laptop to make phones calls.

As an Amazon Associate I earn from qualifying purchases.