Cell Service Comes To NYC Subways… Sort Of
Yesterday the New York Times delivered a bit of good news for once: cell service is finally coming to NYC's subways. Well, one subway line. Well, just four stations. But it's a start, right?
This has been years in the making, and as a daily subway rider I've rolled my eyes more than once at the promise of cell service in the tunnels. The political wrangling and mananagement mishandling has been epic, believe me. And the fact that this launch is so limited gives me little hope for widespread service any time in the next 11 years.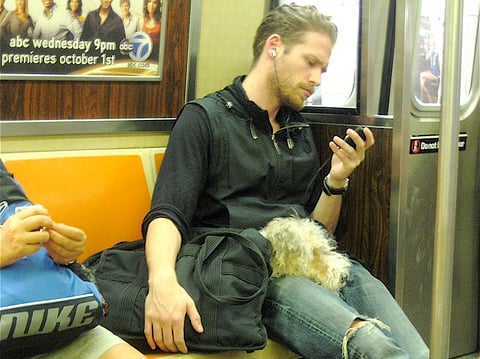 Though CNet will have you believe we can't get phone calls or data on the subway here at all, that's not quite true. Trains that run closer to the surface, like the 1/2/3 line, do get some service depending on your location in the tunnels or the station. But most tunnels are farther down, and even if you stand at the bottom of the stairs your bars are all gone.
However, if you're standing at a platform on 14th street in Chelsea (the L/F/M, 1/2/3, and A/C/E/L) or at the 23rd street C/E stop, you can make calls, get texts, and surf the net… if you're on AT&T or T-Mobile. And once you go into the tunnels say goodbye to your bars once more. The MTA sure knows how to break our hearts, don't they?
There's apparently no firm date for determining if the trial is "successful" and moving on to wider deployment or adding Verizon and Sprint customers. I predict 11 years. And by then we'll no longer be using cell phones but communicating directly with the mothership above, just you watch.
In the meantime, New Yorkers will get a glimpse into the future. For a few stops you'll be able to make loud phone calls, revealing all your personal details to the entire car. Or you can stream that video from xtube.com your friend sent. The future is looking bright.

As an Amazon Associate I earn from qualifying purchases.