CES 2009: Asus Concept Mobile Devices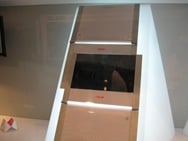 Asus has a pretty intriguing display of concept origami-like mobile devices   that look really interesting. But like all concepts under glass on a display floor at a large convention you don't know if you looking at what's to come, or eye candy. Especially since some of these are just models. I think these offer an intriguing look into the mind of the designer process at Asus, and we all know that they crank out some interesting stuff.
Enjoy the pictures after the jump.

As an Amazon Associate I earn from qualifying purchases.