CES 2009: Geeks Having Fun Being Geeks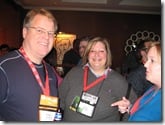 One of the joys in any industry is getting together with like minded folk. At CES we always enjoy meeting those we cover in the industry and those who do the covering. Thanks to CntrStg, we were able to hook up with quite a few folks who we know and admire and also meet new friends. The Tablet and Touch Community Meetup also helped us hook up with some friends and followers as well.
After the jump below you'll see just a smidgen of the folks we got to hook up with.
| | |
| --- | --- |
| Graham Skee of anythingbutipod, Chris Leckness of Mobility Site, and Steve Hughes of BostonPocketPC hanging out at CntrStg | Rob and Kevin Tofel at The Digital Experience showing off some straps |
| Sascha the Netbook King of netbooknews.de and Brad Linder of Liliputing outside Lunch at Pieros. | Kevin Tofel and Jack Cook from Mobility Site try to get some work done. |
| Ian Dixon of The Digital Lifestyle and Warner hanging out. | Layne and Lora only look like they are staring at plants. They were checking the Ustream feed for the meetup. |
| An unidentified lady, Robert Scoble, Robert Heiny and Ken Collura at the Meetup. | Sierra and John Obetto at the meetup. |
| Jolicloud OS developer Tariq Krim shows off his stuff. | Warner and Judi Lipsett of Gear Diary |
| Chris Leckness of Mobility Site | Lora Heiny and Sierra Modro |
| Lora Heiny and John Hill of Alltp.com and Tablet PC Buzz look like they are stunned by the good food. | James Kendrick, Kevin Tofel, Ian Dixon, and Warner hang out. |

As an Amazon Associate I earn from qualifying purchases.