CES 2009: Getting Really, Really Mobile with Xavier from Notebooks.com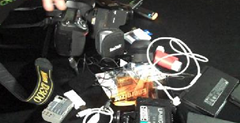 OK, we like to think we travel pretty light and mobile when covering an event like CES 2009. Our good friend and colleague at Notebooks.com, Xavier Lanier, has proven us to be nothing but weak pretenders to the light and mobile crown. Take a look at this video and check out how Xavier carries more gear, batteries, storage, and even a kitchen sink or two in a Scott eVest fleece. Rob, Truc, and I were alternating between astonishment and lust as we watched Xavier unload all he carries with him.
Check out the video after the jump. You will be amazed.
Think about this, Xavier says this saves him carrying a bag on the plane and when asked how he passed through security at the gate he said he had no problem. In my case, they would probably make me unload it all.
I bet you'll see some GBM team members sporting these vests sometime in the future.

As an Amazon Associate I earn from qualifying purchases.