CES 2009: OQO Model 02+ Looks Amazing with that Touch OLED Screen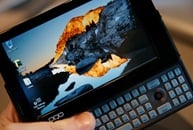 Rob is getting ready to head out to a meeting with the folks at OQO to talk about the new Model 02+ with that OLED touchscreen. We're all excited to see this in action and anxious to hear what Rob has to say. We'll obviously be following this very closely, but in the meantime, the gang at Gizmodo has some pictures up that make this look very similar but also quite enticing. Every time I ever picked up and OQO (remember OQO sponsored our CES coverage last year) I wanted to touch that screen. Also enticing is the $1500 price point, but we'll have to see what that includes.

As an Amazon Associate I earn from qualifying purchases.