CES 2009: Rob's Thoughts on the Show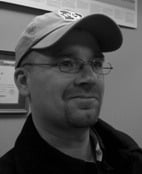 It has been widely reported that attendance at CES 2009 was down. While it was much easier to walk around the halls without feeling like you were stuck in a New Your subway, we stayed busier than ever just trying to keep up with everything. There were definitely good products to see and great folks to talk to, all hopeful that winter will end quickly and new life will come in spring.
Here are my thoughts on CES:
I'm really digging PogoPlug's NAS solution — just plug in a USB hard drive, and then you have access to your files from wherever. It couldn't be simpler
Lenovo's encrypted portable harddrive is totally awesome. I'm reviewing a 160 gb model right now. For those who are mobile and need to secure their portable hard drives, I highly recommend it.
OQO hit it out of the ballpark with their Model 2+. I think they are making a mistake by going with a passive digitizer, though. Capacitive touch is the future. Let's hope when Windows 7 rolls out, a capacitive touch version gets announced. I'm on the fence about them not including an active digitizer. Notetaking on a 5" display is challenging.
HP is all about touch, style, and personalization. Their TouchSmart tx2 and the TouchSmart All-In-One are just the beginning.
Where was Dell? Sure, they got all exclusive with their Adamo, but why was the XT2 missing in action?
On our last day, we got wind of Toshiba's M750 prototype running a Wacom capacitive touch digitizer. Forget the fact that we asked Toshiba about tablet and touch during Digital Experience — a day before the show started — and they said they had nothing to show. We won't go in to that ok? There are some confusing reports popping around about whether or not Toshiba plans to support the pen. If Toshiba plans to abandon the pen in their M7xx tablet pc, that will clearly mark a shift in the mobile pc space, and I don't think it is a good one.
Microsoft's booth area was the same size it has been in previous years. However, there was a lot less floor space for product. It looked most of the floor was taken up by gigantic displays. Same floor space, a lot less to show this year.
CTL's 2GoPC convertible classmate pc was a welcome sight for my sore tablet pc sores.
MIDs, MIDs, MIDs .we are still in the very early stages of the MID game, and the folks at Intel are very patient with a 3 — 5 year outlook. MIDs might end up looking totally different than they were laid out several years ago, but Intel is not far off the mark about an internet connected entertainment device. In the end, Intel will sell more chips and be a defining player for this portable market.
Livescribe's Plus Smart Pen is must have gadget for inkers out there — potential game changer on our hands
I'm surprised there wasn't more talk about Lenovo's W700ds — what an awesome machine. That should have been an Innovator Award winner. Two screens built into one machine. Look for Lenovo to improve upon the W700ds as Windows 7 gets closer.
I used Lenovo's X200 Touch Tablet during CES 2009. The 128GB SSD flies. At first, the screen on the touch version didn't bother me. However, after seeing the X200 Tablet with SuperBright, it clear how much grainier the X200 Touch screen is. If screen clarity is important to you, I'd recommend the X200 Tablet with SuperBright.
Netbooks? The talk around netbooks was all about keyboards, and HP's Mini 1000 and Samsung's NC10 out shone them all. Athena's injected molding for custom screens is very, very cool. It certainly helps bring some differentiation in an otherwise cloned world.
TabletKiosk was a winner announcing the eo i7300 as the only 7″ device supporting an active digitizer. With Motion out of the market in that space right now, it is good to see TabletKiosk take that space.