CES 2009: Tablet and Touch Community Meetup at CntrStge a Big Hit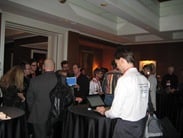 Well, CES 2009 is beginning to wind down, especially now that the 2009 Tablet and Touch Community Meetup has ended. We had a great crowd at CntrStg with lots of great camaraderie, some fantastic giveaways, and some real fun.
Some of the companies that provided giveaways included TechSmith, Otterbox, the developer of the iPhone/iPod Touch game-Kronk, ProClip, TabletKiosk, Google Website Optimizer, Intelligent Technologies, and the Tablet PC MVPs provided an HP Mini-1000.
There were a lot of folks here all talking Tablets, Netbooks, and mobile computing in general. There were folks demoing equipment, I think I saw some info changing hands an possibly a deal or two. All in all it was a great time in the room, and also on the web, as we had a live stream running on Ustream with a number of folks chatting back and forth with the party participants and also seeing a few product demos being given over the web. The CntrStg setup really made that work very, very well. So, a big thank you to CntrStg!
Until the next time, enjoy the pictures below the jump and check out this GBM Flickr feed for more. You might even see yourself there.

As an Amazon Associate I earn from qualifying purchases.