CES 2009: The Asus Story in Convention Floor Real Estate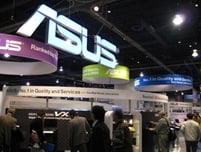 At CES 2007, Asus could barely be found at the big show. They were in a small meeting room on the second floor of the South Hall in the Las Vegas Convention Center. Matt Faulkner and I searched them out to talk about the Asus R2H UMPC and their ultra-mobile plans. The folks manning the ""booth" weren't really able to talk much about what Asus had to offer as far as an ultra-mobile roadmap and in fact didn't seem that interested in talking to us.
At CES 2008, the Eee PC Netbook was a big story and in the hands of some early adopters roaming the show. Asus had space on the floor and a crowd around the Eee PC. We all know how that turned out.
This year Asus exploded across the floor of the South Hall of the Las Vegas Convention Floor with a booth that rivaled the size of those of Microsoft, Intel, HP, and Sony. On display were the many iterations of the Eee brand including the designer models, as well as concept devices, Asus' ETop desktop, and a slew of laptops and notebooks along with the other products that Asus offers.
Size of displays don't mean anything, just like in the end egos (both corporate or personal) don't. Following Asus' explosive growth these last few years has been entertaining to say the least, and astounding to watch. Asus is in a driver's seat at the moment and it will be interesting to see where that will lead. Follow the jump for some pictures of the Asus booth and their products on display at CES 2009. They were still on of the major stories at this year's show. Perhaps that's evidenced by the fact that the new and ballyhooed T91 Netbook Tablet was on display but only showing a demo that didn't allow us to check it out and see how it worked or didn't. With growth and size, also comes arrogance perhaps.