CES 2009: The Digital Experience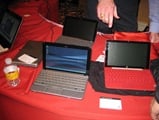 Tonight the GBM Team headed over to the Digital Experience to check out what new and exciting stuff vendors will be offering up soon. We saw everything from robotic gutter gleaners to touch screen digital watches. You're seeing some of the videos getting posted up as I write this. We also got some shots of HP's Mini-Notes, new products from Griffin, good friend and fellow blogger Kevin Tofel, and some of the wackiness that is the Digital Experience (including some yummy food.)  Check the pictures after the jump.

As an Amazon Associate I earn from qualifying purchases.