CES 2009: The GiiNii MovIt Android Tablet Video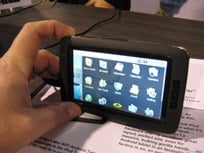 We tracked down that Android Tablet we've all been hearing about, the GiiNii MovIt and this looks like these folks will continue to make some noise with this device on a number of fronts. Small, pocketable, and with a price aiming for $149, I would expect if they follow through we'll see these in Wal-Marts and other retailers. Here's the catch, these are Wi-Fi only devices, targeted at young folks who are always within reach of a hot-spot.
That makes sense when you consider the GiiNii began by making digital picture frames and this could be viewed as just another digital picture frame but one that is mobile and with more capability. Check the video after the jump.
Sorry the video jostles a bit on this one but there was a lot of interest around this booth and you know how those jostling crowds are.

As an Amazon Associate I earn from qualifying purchases.