CES 2009: The Sony VAIO P500 Hands on Video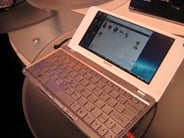 Truc and I tracked down The Sony VAIO P500, which is a device that is creating quite the stir at CES 2009. Sony calls it a Lifestyle PC and not a Netbook. I like the feel of the device and the chicklet keyboard has better action than I thought it would, but it was really difficult for me to place my fingers on the right keys. The high res screen is not going to be one that users with any eye-sight hindrance at all will favor, although you can get a lot of info on that screen. I'm not picking on Sony here because they certainly aren't the only folks marketing to the high end, (*cough* Apple *cough*) but the high price points do make me wonder.
You'll have to forgive the two part video here, as the ever present  and over-the-top lighting in the Sony booth did allow me to really view the function key markings, which is whey we couldn't locate the zoom keys right away. But, hey we got there in the end. Check out the video after the jump.