CES 2009: Toshiba Concept Internet Devices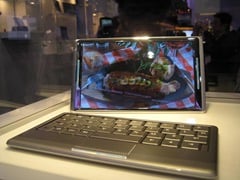 Sorry I didn't get this up earlier, but other things intervened. Here are some pictures of Toshiba's concept Internet devices. I love to see this kind of thing in concept, I'd love even more to seem them come to be. From MIDs to these concept devices we're seeing lots of interesting future possibilities, but at times it seems like things move so fast that what looks enticing in January, is yesterday's news by June. Maybe this economic slowdown we're going through will allow things to equalize a bit on some macro/micro/mondo level so some cycles can get rebooted.
Check the pictures after the jump.