CES 2009: Visiting with Toshiba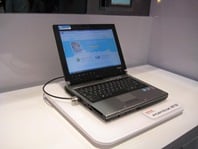 As a Tablet PC guy I have to say that it was disappointing that Toshiba wasn't launching a new Tablet PC at CES 2009 this year. But then it makes sense when you think of the timing. I'm sure we'll see something new from Toshiba around Windows 7 time with multi-touch. They did have the M750 on display although it sure felt lonely as folks passed it by looking at newer offerings. That said, after the jump you'll see some pictures of some of Toshiba's wares in its giant booth. (Check out the one with water running over the device.) It serves to remind you of just how big a company Toshiba really is. The next post will have some shots of some of the concept Internet devices Toshiba had on display.
Catch the pictures after the jump.
First up are shots of the Toshiba NB10 Netbook with one shot of the keyboard. They are followed by some shots of the Toshiba Portege and Tecra notebooks, then some docking accessories and finally some portable hard drives and SSDs.

As an Amazon Associate I earn from qualifying purchases.