CES 2009: Warner Wins a HP Mini-1000 at CntrStg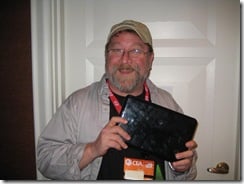 Winning is always fun and this was sure fun. We've been enjoying the bandwidth, the food, the drink, the fellowship, and the fun at CntrStg, a great place for bloggers to get some work done, network, and see some great presentations. CntrStg is sponsored by HP, AMD, OtterBox, Boston Power, Eye-Fi, Big Skinny, skooba design, ProClip, American Airlines, Windows Mobile, Buzz Corps, and probably one or two companies I've missed and they have certainly made things comfortable and fun here at CES 2009.
But back to the winning. Word went out this morning that a contest was afoot. The rules were that you needed to be wearing a CntrStg t-shirt and take a picture of yourself with an HP Mini at either the HP booth on the CES floor or at CntrStg. I can tell you that there were a raft of folks here wearing those shirts this afternoon. The winner was selected by random after submitting the picture via email. I got lucky, and I'm grateful.
Below is an unboxing video that Truc and I did shortly after the winning announcement. I'm looking forward to working with the HP Mini-1000 and I'm sure you'll be hearing more about it soon. Maybe that Windows 7 Beta needs to go on this. What do you think?
Catch the video after the jump.

As an Amazon Associate I earn from qualifying purchases.