One thing Xavier emphasized repeatedly to our team of CES newbies is to introduce ourselves to our fellow bloggers. Best advise he could have given because it was easily the highlight of the trip.
Aside from our team, the first people I ran into were Kevin Tofel and Matt Miller. Of all the thousands of press showing up, they literally walked up behind me in the press registration line and we didn't even know it until Xavier met up with me in line. I need to wear a sign on my back next time. You guys need to record your normal conversations when you meet at CES; it's podcast-worthy.
At and outside a first day event, we met jkk of jkkmobile, Sascha and Nicole of Netbook News, Brad from Liliputing, and Judie and the Gear Diary team. Our paths crossed several times during the show. I gotta say, jkk knows how to market his brand.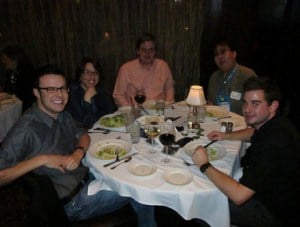 Another guy I kept running into was Steve "Chippy" Paine of UMPCPortal with whom I share a special kinship: nicknames. I was fortunate enough to engage him in a few dialogues and could tell we were seeing the same writing on the wall in the mobile computing field. Sorry about winning that Droid contest over you. :) You might want to filter my blog entries for a while as I agonize over exactly what to do with it.
There were many others I met briefly, including Shogmaster who we all know here at GBM (despite what he thought), entirely new faces, and even my first point of contact in the Microsoft MVP program.
One person I regret not meeting is the missing man from my first encounter, James Kendrick. I saw him briefly at the cafe where we had our first lunch and said, "I don't want interrupt them, plenty of days to run into him." Opportunity lost. I will hunt you down next time, sir.
On a related note, this was also a year at CES without a Tablet PC meetup, or at least I wasn't invited (or Kevin Tofel lied to me). A lot of Tablet PC guys weren't there for various personal reasons, so it's understandable, but it made me feel like the only guy at CES with a Tablet PC in his pack. Not a good sign for 2010.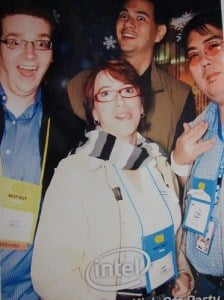 And saving the best for last, it was truly great to meet Xavier in person, chat with Josh, and welcome the newest member of our team, Amy. Xavier deserves the best new boss Blottie that Warner awarded him. Josh is a blogging machine and a pleasure to meet after following his personal blog for a while. And if not for Amy, I might have been wandering the streets in a daze. Thanks for reining us in. I'm so happy you're joining us at GBM, as well as Notebooks.com.