CES 2010: Toshiba's bets big on CELL TV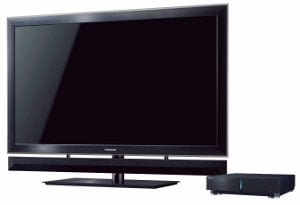 Toshiba, being a major Tablet PC vendor, was a must-see on my press conference list. Nothing new presented in that area. Rather their focus was on TV, more specifically the CELL TV, the most powerful TV ever made.
No, there's nothing terribly mobile about a 50″ TV, but it could be the most powerful computer in your home (and given the likely price, possibly the only thing in your home).
As the name suggests the CELL TV is packing the CELL processor, best known for powering the PS3. It's also loaded with a built-in 1TB HDD, BD Player, and 802.11n wifi, so can easily serve as your media server.  Full release after the jump.
TOSHIBA UNVEILS POWERFUL CELL TVâ"¢ FOR THE USA
CELL TV is More Than Just a TV;
CELL Broadband Engineâ"¢ Now Positioned to Power the Future of Home Entertainment
CES, LAS VEGAS – JANUARY 6, 2010– Toshiba America Consumer Products, L.L.C. ("Toshiba"), a market leader in LCD TVs, announced today that the company has developed groundbreaking home entertainment technology and is introducing the ZX900 Series CELL TVâ"¢ into the U.S. market.  The state-of-the-art CELL TV will provide consumers with a new level of home entertainment experience.  The focal demonstration of Toshiba's 2010 CES exhibit, CELL TV will be available in the U.S later this year.
At the heart of the CELL TV is the CELL Broadband Engine™, designed for superior multimedia processing and previously used in advanced PCs and high-end gaming consoles.   By incorporating the CELL Engine into CELL TV, Toshiba has designed an unparalleled TV with an exciting array of advanced features that were previously unthinkable.
"Creating a TV around the CELL Engine has removed previous limitations and allowed Toshiba to create an ultra-premium TV that is also an easy to use home entertainment server," said Scott Ramirez, VP TV Marketing for Toshiba America Consumer Products.  "By combining the CELL Engine with the new KIRA2â"¢ LED panel technology, Toshiba engineers have developed all-new levels of stunning performance and comprehensive functionality.  CELL TV provides more brightness, more contrast, more detail, more 3D, more robust connectivity, and more fun than anything we have ever created.  CELL TV is the new gold standard."
CELL MAKES EVERYTHING BETTER
The heart of CELL TV is the powerful CELL Engine which has 143 times the processing power available in current TV models.  This massive power manifests itself in incredibly enhanced picture quality that is certainly the new state-of-the-art.  True Super Resolution Technology ensures precise image accuracy by sampling multiple frames and restoring the native pre-sampling signal curve.  This process enhances both SD and HD signals for the clearest possible 1080p Full HD picture. Net Resolution+ adds Compression Noise Canceling to significantly enhance Internet content.  This system detects noise compression inherent in low resolution internet content and separates and corrects the image data to produce sharper, cleaner internet images, even on super large screens.  In addition, AutoView™ RGB combines an ambient light sensor, and a new RGB sensor, to automatically set the brightness, contrast, gamma, sharpness, color saturation, and now color temperature, to ensure the best possible picture in any lighting condition.  CELL TV also boasts ClearScan™ 480Hz Frame Rate, for a clear, crisp picture for fast motion video.
TOSHIBA INTRODUCES SUPER LOCAL DIMMING LED
For the flagship ZX900 Series, Toshiba combined the power of the CELL processor with its new KIRA2 Super Local Dimming LED Display.  KIRA2 is positioned as "Twice as Bright!" as it has an amazing 1,000 cd/m2 brightness.  In addition, KIRA2 also has 512 controllable zones (5X that of previous local dimming models) for precise control over black levels.  This allows the KIRA2 to create an unmatched 9M: 1 Dynamic Contrast, creating the ultimate picture quality package.
WATCH EVERYTHING IN 3D
CELL TV has true 3D TV capability, and much more.  For native 3D content, CELL TV utilizes a Frame Sequential System that changes from 240Hz in 2D mode, to 120Hz for the right eye and 120Hz for the left eye in 3D` mode.  This system accepts multiple 3D input formats, including MPEG4-MVC, RealD, and more.  However, when true 3D content isn't available, CELL TV has the solution.  TriVectorâ"¢ 2D to 3D Conversion takes any 2D content and converts it into 3D in real time. This means that with CELL TV you can "Watch Everything in 3D!" including 2D sports, movies, TV shows, video games, and more.  3D TV creates a more immersive home theater experience, and CELL TV's TriVector 2D to 3D Technology significantly expands the amount of time you can enjoy 3D, truly setting itself apart.
GET READY TO BE SERVED
Going beyond the realm of television, CELL TV is also a high-end Home Entertainment Server.   With a built-in 1TB HDD, BD Player, and 802.11n Wi-Fi® capability, CELL TV can store your favorite media content (video, music, pictures, etc.), and then display it, or transmit it to other compatible DLNA displays in your home.  Content can be downloaded from the Internet, transferred from your PC, or recorded directly onto the HDD from the BD Player.  With CELL TV you have unprecedented access to your content, all of the time, virtually anywhere in your home.
GET CONNECTED
CELL TV offers a robust set of advanced connectivity options including an Ethernet Port with DLNA, 802.11nWi-Fi, and Wireless HD.  The Ethernet Port enables a wired connection to the Internet or home network, while 802.11n enables connection to the Internet or other rooms through a wireless router.  In addition, Wireless HD allows the CELL Set-Top Box to connect to the display without running any wires to the wall.
Net TV capability will provide a wide list of Internet "Channels", providing almost limitless options for additional content.  Key targeted content partners include Netflix®,  VUDUâ"¢, CinemaNow®, Pandora®,  and many more.  High value content can be streamed, or in some cases downloaded to the HDD for purchase.
Taking connectivity to another level, CELL TV also includes new Video Phone capability.  This Home Video Conferencing over IP allows you to see and hear people with compatible devices, adding a whole new dimension to social networking.  By combining this with Net Resolution+, Cell TV can provide clear images, even on super large screens.
The CELL XV900 Series is the first CELL TV Series, and will be available in large 55″ and 65″ (diagonal) screen sizes.  This two piece system features a sleek Set-top Box, and a display in the new Genesis Design with a black brushed aluminum bezel with acrylic trim.
For more information on the CELL TV, please visit https://www.ToshibaTV.com.