CES 2012: Five Things I Can't Wait to See
Our team did a great job of covering CES 2012 and picked some awesome new gadgets, notebooks, smartphones and tablets as the Best of CES 2012 this year. Since I couldn't make it to the show this year I had to drool from the foothills of North Carolina as the gang enjoyed getting their paws on these awesome new toys. Like most of you, I'll have to wait from weeks to months to actually try out the stuff on my list.
Of all the items we shared with our readers, here are the five things I am really excited to see. There's nothing revolutionary here, but these five things get my gadget loving excitement going.
ASUS EeePad MeMo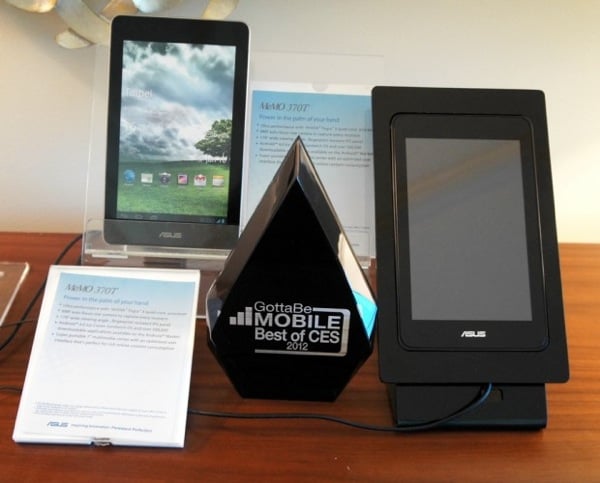 The ASUS EeePad MeMo competes with the Kindle Fire in both price and form factor. It's not a secret that I love my Kindle Fire. After seeing this full Android 4.0 Ice Cream Sandwich device with a similarly priced and sized tablet I might consider replacing it with the 7″ MeMo. I had a good experience with the ASUS EeePad Transformer, so I expect good things from the ASUS EeePad MeMo.
The tablet has an NVIDIA Tegra 3 quad-core processor that should overcome the only complaint I have with the Fire, speed. Our team in Vegas gave this one a Best of CES Award because for the awesome price and the specs. I agree and can't wait to find out when it will be available.
HP ENVY Spectre
The HP ENVY Spectre has a lot of glass, and we're not talking about the display. Instead of the typical plastic or aluminum lid, HP designed this Ultrabook with glass and some awesome specs. It has a 14″ screen, but a 13.3″ sized body because of the incredibly narrow bezel around the screen. The 1600×900 resolution gives you a lot of onscreen content in a small form factor. It has Beats Audio for great video and music playback. Even though I'm a bit nervous carrying around this much glass, I'd love to play with this machine, more so than all the other notebooks I saw in our CES coverage. The large trackpad and backlit keyboard look like a touch typists dream. I really hope this notebook measures up to my expectations when it ships in the US for $1,399 next month.
Samsung Galaxy Note for AT&T
During my short foray into the Android smartphone realm this spring and summer, I loved having large 4-inch-plus screens on the two phones I used. Now we see a full 5.3-inch 1280×800 Super AMOLED display with the Samsung Galaxy Note, as well as a pressure sensitive active digitizing stylus in the S-Pen. The S-Pen will feel more like drawing or writing with a pen than a typical passive digitizer or your finger. Sadly, you'll have to fork over extra cash to get one when it finally ships. We also don't know the price or release date for AT&T, but expect a price range of $200-$300 at first and then, like most Android devices, it will probably drop within a few weeks or months.
ION Audio Guitar Apprentice
You can use the iPad for entertainment, productivity and, with gadgets like the ION Audio Guitar Apprentice, you can learn a musical instrument as well as play that instrument. My son wants to learn guitar, but so far hasn't practiced enough and lost focus. When I showed him this iPad accessory, his eyes lit up. Like dad, he's a sucker for gadgets. I have a feeling this thing will jump-start his efforts to learn and play guitar come July when it ships for only $99.
Belkin Thunderbolt Express Dock
With the Belkin Thunderbolt Express Dock I can take my MacBook Pro with me more often. I replaced my desktop with the 15″ MacBook Pro last spring and most of the time it sits on my desktop. However, since I keep my photo and video library on the computer, I sometimes want to take it with me instead of my MacBook Air for mobile creativity. I can plug all of my accessories into Belkin's dock and unplug only two cables (the Thunderbolt and Magsafe charging cables) and I'm ready to go.
I'm looking forward to plugging a Thunderbolt drive into this thing for super fast backup and plugging in my iPhone dock, my HDMI display and my network Ethernet cable. I could get a USB dock today for my MacBook Pro, but I wanted to wait till Thunderbolt came along. I'm glad I did, with Belkin's dock coming in September for $299.