CES 2012 Gear And Gadgets: What's In K. T.'s Bag
Today is the first official day of CES 2012 and I'm about to head onto the show floor with my bag full of gear. Since you all enjoy seeing what's in our bags I thought I'd share.
The picture below is of all the gear I brought, but I'm not carrying everything in this picture. The trip to the airport was grueling enough with almost everything you see in one bag. I have about 2/3rds of that stuff with me right now.
My main considerations are being able to comfortably carry everything I need, quick access to my oft-used equipment, and enough pockets that I don't have to rummage or search for anything. Since I'm doing both video and still photos I needed a laptop that could handle my A/V workflow fast. And, of course, I need to keep all my gadgets powered and connected.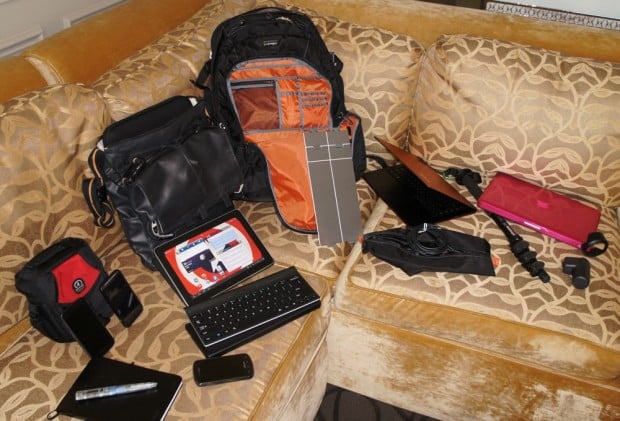 Everki Flight — Everki sent me the backpack with orange lining you see for review. What better place to test the mettle of a bag than CES? It's capable of holding a 16-inch laptop in the back compartment plus everything you see here with some extra room left over. This is with me today.
Lomography Sidekick TPE Bag — This is designed for carrying analog cameras and film, but I found that it works really well as a combo laptop/digital camera bag. There are a ton of places to hang small bags from and lots of pockets. I can fit my Sony alpha NEX-C3 in the front pockets if it doesn't have the mic attachment on.
ChillCase — Peeking out of the Sidekick is the bottom of a ChillCase laptop sleeve. I carry this around for when I need a lapdesk but it has the benefit of incorporating a laptop cooling fan yet still being very light.
Aviiq Portable Laptop Stand — That thin metallic thing resting against the backpack is a folding laptop stand. It's super light and thin and I carry it in conjunction with the Chillcase to give my laptop a tilt toward me — useful for press conferences.
MacBook Pro — Yes, the MacBook is pink. I'm carrying this with me on the show floor even though it's heavy because I'm using iMovie to edit and render all of my videos. I wish there was a Windows video editing program as easy and simple and hassle-free to use (HINT) so I could carry the other laptop, instead.
Lenovo IdeaPad U300s — This ultrabook is nice and light and has a decent keyboard and I'll probably carry this on the last two days of the show when I'm less likely to shoot video.
Energizer EnergiToGo XPal Battery/Adapter — This gadget is hiding under my cord bag, which has 2 mini USB cords and 5 microUSB cords inside. It's a portable barry that will recharge bus-powered devices as well as some netbooks and notebooks. Not the MacBook, alas, but I have this to keep my phones juiced.
Sony alpha NEX-C3 — Not pictured here because I took the picture with it. I talked about why I love this camera back when I started with GBM and my opinion hasn't changed. I now also have an external flash attachment and the microphone for videos (in the case on the right side of the picture).
Manfrotto 290 monopod — Lighter and smaller than a tripod, this is the perfect way to keep my camera steady while shooting videos, especially since it's so light.
Samsung Galaxy Tab 10.1 — I'm not using this as much on the show floor as I am to go over my schedule and tasks back in my hotel room. Though on the last day of the show I may ditch my laptops altogether and just take this.
Logitech Tablet Keyboard for Android — If I do ditch the laptops I'll need this Bluetooth keyboard to keep me sane when writing quick posts.
Samsung Galaxy Nexus, Samsung Stratosphere, HTC Thunderbolt, Motorola RAZR — Yes, I have 4 phones with me and only one of them is mine. The others are mostly along to act as mobile hotspots or backup phones if my battery runs down.
Echo Smartpen — This is an invaluable tool for journalists, especially for this show. The Echo will record everything I write in the notebook it's sitting on as digital data, which I can sync to my computer. It will also record audio along with my pen strokes, so as I move from meeting to meeting I have an exact record of what people tell me.
That's what I'm carrying this trip, and I'm sure I'll pick up more gadgets as I move through the show floor.