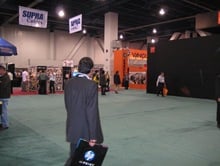 Day 2 was in some respects easier than Day 1 to cover. There is simple reason for that. There really isn't that much big news to cover this year. The picture to the right shows something we saw a lot of in the South Hall of the Las Vegas Convention Center: empty spaces between booths.
That said, we did manage to explore a bit and discover some things of interest. Coby has more Netbooks on display than you can shake a stick at. Rob posted up a video of the Samsung Papyrus, an e-Ink note taking device. We've got another video of this in the can that will probably go up tomorrow.  Truc and I had a great interview with the folk from Livescribe who make the Pulse SmartPen. You're going to like this video when it goes up.
Truc and I also discovered a way to cut down on the miles and miles of walking. From the back of the Central Hall you can take a golf cart ride to the back of the South Hall which saves quite a bit of shoe leather.
But when the big news of the day is that Apple may be (emphasis on may and be) attending next year's CES and Dell released news of the less than an inch thick Adamo without any real specs and that the Beta for Windows 7 got delayed that tells you a lot.
The pictures after the jump give you a flavor more than anything else, so I hope you enjoy them.
Oh, yeah, and I won an HP Mini 1000 from the folks at CntrStg courtesy of HP. Very fun and very exciting.

As an Amazon Associate I earn from qualifying purchases.