CES Impressions, the Dennis version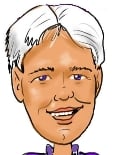 Well, I am almost recovered from the CES trip. It was a most exciting and very busy trip for the whole GBM team, including introducing the newest official team member, our mischievous little friend Splotch! Huge thanks also go to our additional companion Eddie Vanderbeck (not an official team member – or not yet anyway [:)]) for some great camerawork and general assistance.
In a true blogging style, here are the thoughts I am left with after the trip. My comments are more general in nature, but are very much a part of the process we went through:
CES is HUGE! – There is just no way to cover it all in a couple of days, or a week for that matter. CES is about much more than the show floor, it is about the networking, the meetings, the dinners, lunches and breakfasts where so many great conversations take place on any and all technology you want to imagine. The late night meetings that start at 10 p.m. and end at 12:30 a.m. are huge, just because it is the only time you can get together with great contacts.

You better have a plan – We had a set of hard appointments, and a set of primary targets we wanted to hit, plus a few "if we have time" opportunities. It worked out well for our team to split into two parts and divvy up that list. Even with that list, the pace is frenetic at best. It is very hard not to divert to other things, especially if you are an electronics and gadget freak as we all are! There were a few discoveries along the way as well, which always makes it exciting.

Our Microsoft MVP status is a valuable asset to us all – We VERY much appreciate the contribution Microsoft made to get our team into the right places there at CES. That is how we were able to get a private tour of the Partner Pavillion (and a standup meeting with Bill Gates), had intros to key people who we would never have been able to interact with, and got lots of great insider information that contributes heavily to our content here at GBM for you our readers. Our MVP leads were there and ready to help us anytime we needed it, and without that help, we would have been outside some areas we needed to be in. As a part of a 2 day Vista RTM lab, we were able to hear and learn a ton of information about this new OS. We have all been beta testing for a while, but still learned a lot which will come out in various ways to you as we post on the subject.

The network of Tablet PC community is alive and thriving!

– It was not just at the Tablet PC meetup (my personal highlight by the way, just like the whole team has indicated) that we saw and heard enthusiasm for the Tablet and UMPC form factor and technology. When you talk with people like Martin Smekal (CEO of TabletKiosk), and Scott Eckert (CEO of Motion Computing), you know that these companies are committed and moving forward at a strong pace. Meeting and talking with trhe Neek Talkers (teenage girls) is a treat in itself, just to get their perspectives. In addition, the relationships with other Tablet PC MVP's like

James Kendrick

,

Martc Orchant

,

Linda Epstein

,

Fritz Switzer

,

Terri Stratton

, etc. are very valuable and help us all to stay renewed in our passions for Tablet. It is a great cooperative community. There are some great things happening folks, and we will continue to see more coming forth in hardware, software and related devices. We attended a get together on Tuesday night after the general Tablet PC meetup that included Tablet and related OEM's and ISV's, and were very excited to talk to people like

StreetDeck

,

Eleksen

,

TabletKiosk

,

Motion

,

Toshiba

and so many others who are invested in the future of tablet in one way or another.

We have a lot of work to do at GBM – We certainly did all we could to bring you the experience, but realized that we have room for improvement. Rising at 6:00 and staying up until 3:30 a.m. to have meetings, shoot video, edit video, post all the above info is an arduos thing to say the least, but we were committed to the task. This was our first official covered event, and we fully plan to cover more in the future, so please give us your feedback on how we can improve (even including hints on how to properly use a directional microphone [:)]). We still have lots of stories to share, more video to edit and post, and much more to tell, so stay tuned.

The people who sponsor our efforts deserve your attention!

– This is in no way intended to be a shameless plug. The assistance of companies like

TechSmith

(We love ya

Betsy

!), Microsoft, and others were invaluable to making this trip a possibility for us. Please do check out their sites and products, it is worth doing and will help continue to fund the efforts we do to bring you these activities. We have another sponsor coming on board shortly that we are most excited about, so stay tuned for that news soon as well.

YOU are the reason we do this – I am way too old to keep these kind of hours and efforts up if there was not a reason (You!) to do so. This is not a paying gig for us folks, it is an outlet of passion that we do in order to share the great opportunites we get with companies, equipment, events, etc. with you, our readers. If you do not offer your comments, forum posts and general feedback, then the effort is disappearing into a void. Tell us what you want, tell us how we are doing, but tell us something! We want to continue to improve, so let us know how.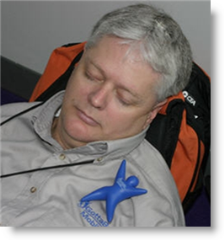 Okay, I am exhausted all over again, but I want to take a moment to thank all the members of Team GottaBeMobile. Working with these guys as we cover these type events is going to continue to be a great experience.
My partner Rob Bushway is the man folks. He is concerned every moment of every day that we are being effiicient in our efforts to serve you. He is the master of content management, keeps us on schedule and in touch, and has a great wife (Kathi) who accompanied us as well. Kathi was the team "Mom", and the rest of us had wives glad she was along to keep us in line!
Warner Crocker. Well, whaddya say about WC? Loves to laugh ("Do you know what I mean" guys?), cooperative in the best sense of team effort, a prolific poster, and a news hound extraordinaire! He contributed a set of flying, screaming monkeys (don't ask) to a late night session that made us all more productive, you'll just have to trust me on that! His wife Thomasin was along, but stayed pretty much in the background this time, which allowed us a unique look at Warner's antics. Thanks Thomasin!
Matt Faulkner is a hoot. We had to pry him away from those penny slot machines (did I mention he is a big spender as well [:)]) a time or two, but watching him in his first experience like this was a blast to see. His enthusiasm for what we do makes him a joy to have on the team. His excitement is contagious and refreshing.
Splotch. This little guy had more fun than anyone. We will share a bit more on this later, but he is indeed a little stress reliever! Look for him to be more and more involved every day in the activities of GBM, and look for ways you may even be able to get SPLOTCHED youself!
And our new friend Eddie Vanderbeck. He is the only one that walked away with any money from the Casinos, but he deserved it after all the helpful volunteer effort he gave in many aspects of the task (including helping me find a lost cellphone!). It was great to have you along Eddie!
As I said, there are more posts, pictures, videos, etc. still to come from this trip, so keep checking in with us. We are moving into a nice period of activity for Tablet / UMPC, and want you to be around as we share the news that surfaces!
Splotch and I can't wait until next year!

As an Amazon Associate I earn from qualifying purchases.