CES Report: An InkShow interview with Motion Computing's Scott Eckert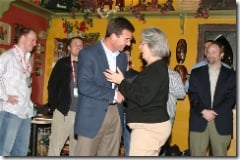 When the term Tablet PC is thrown out, there are a few key vendors that come to mind. Motion Computing is one of them. They have been a major player in the Tablet PC space from the beginning and have continued to set the bar in terms of innovative new products. Unfortunately, it has been close to two years since they have released some new products and the tablet space is getting anxious.
In this video interview from CES, I talk with Motion's CEO, President, and co-founder Scott Eckert. We talk about new trends in mobile computing, and when we could expect some new products from Motion. In the interview, Scott tells us that 2007 will be Motion Computing's biggest product year yet, and that they have a solid, exciting roadmap ahead. So….stay tuned. Looking forward to it, Scott!
Video: GottaBeMobile interviews Motion CEO Scott Eckert
All GottaBeMobile.com InkShows are sponsored by: