CES Report: Azentek's line of Ultra-Mobile PC's for Auto Integration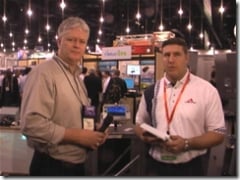 While cruising to a primary target at CES, Warner, Eddie, and I decided to stop by a booth for a company named Panavise that offered mounting solutions for multiple device types for automobiles. I pulled out my trusty TabletKiosk eo i7210 Ultra-Mobile PC and started discussing what the possible mounting solutions were for it in my 2003 GMC Yukon. During this discussion (more on that later as we work with Panavise on that solution), the gentleman I was talking with pulled out an UltraMobile PC I had not seen before (always a nice surprise!). Now it was not a totally new machine, it is the same basic OEM'd model that the TabletKiosk V series were based upon manufactured by PaceBook Japan. However, each company that markets this device adds some of their own flavor to it. The company that was marketing it was called Azentek, which we had not heard of, but found they were actually exhibiting at CES, so after our conversation ended with Panavise, we headed out to find Azentek.
Once there, we met up with a gentleman named Dereck Prentice, who showed us in this interview not only the model we had discovered (Azentek GB-810 Scout, retail $899), but also a new OEM'd rugged Ultra-Mobile PC product (targeted at $1,600, which is pretty aggressive for a ruggedized machine) they have under development that they are working on integrating into their automotive line of products. They use an application called iMobile for adding all sorts of computing functions to your car. This new rugged model looks very interesting, and is not a form factor we had seen before from anyone, so we will keep an eye out for more info on that as it comes available.
They also have another product available for total in car permanent mounted computing called the Atlas CPC-1000 Series, check out the links below for full descriptions on this line of products.
It was a good find for us, we love to discover new players in this up and coming UMPC market, and Azentek looks to be making a good committment to the form factor. Our thanks to Dereck for the time he spent with us on this.
All GottaBeMobile.com InkShows are sponsored by:

As an Amazon Associate I earn from qualifying purchases.