CES Report: Day One On The Floor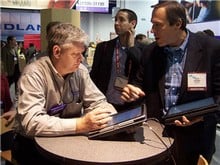 Wherever GottaBeMobile.com goes it seems like we are smack dab in the middle of the Tabletscape and CES is no different. Today was our first day on the floor of CES and we had a full agenda of companies and devices to check out. HP, Asus, OQO, Toshiba, LG, and others. We split up into two teams to roam the floor. If we haven't already, you'll be seeing videos posted shortly regarding Toshiba's new R400 and the OQO as well as a great interview about some terrific new devices and accessories from TabletKiosk. But the moment that really crystallized what CES and the Tablet PC community is all about for me came this afternoon at HP's booth. Both GBM Teams converged at the same time to take a look at the HP TX1000 Tablet PC. Not only were we there
looking at the new HP consumer Tablet PC, but Mike Hagerty, Lenovo's Worldwide Segment Manager for the Thinkpad X series stopped by to check out the competition. As did a new manufacturer of digitizers, and Mike Fosmire, the Microsoft Tablet PC MVP Lead. At one moment you had HP reps trying to deal with questions from four GBM guys, our cameraman Ed, Mike Hagerty of Lenovo, and Mike Fosmire. All looking at this new device from their different perspectives. Although the Tablet PC/UMPC meetup isn't until tomorrow (as I write this post) this was a very different meetup and certainly captures the excitement and passion I feel about Tablet PCs.
Tomorrow's (or is that today's?) plans call for looks at the S-XGen, the HTC Athena, the Medion, and all sorts of other gadgets, as well as the Tablet PC and UMPC meetup.

As an Amazon Associate I earn from qualifying purchases.