CES Report: Intel's Concept UMPCs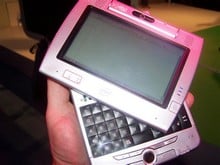 At the Intel booth today we got to take a look at a few concept UMPCs that may or may not make it to market in the months to come. We've seen some of these designs before, but what intrigues me most about this is that we are seeing UMPCs targeted at a specific market segment or specific use, which I think holds a lot of promise for the Ultra Mobile PC in the future. Dennis got to do an interview with an Intel rep and will report more on that interview in a future post. Until then enjoy the pictures.

As an Amazon Associate I earn from qualifying purchases.