CES Report: S-XGen Pocket PC InkShow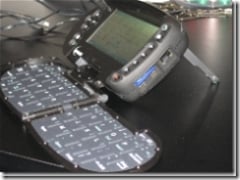 Rob and I went over to the Sands convention center on Tuesday to look at some of the vendors over there. Little did we know what we would find over there – FlyBook, PepperPad and a look at the OLPC (it's running the Pepperpad Software if you didn't know). But, One of the devices we knew was going to be there was the S-XGen from Seamless Internet.
The device looked really nice and you can see Rob's first impression right after the InkShow filming. I have to agree with Rob, I don't really see this as a 'pocketable device'. If you have a Cingular 8125 (or PPC6600) your phone is going to feel like a Razr compared to this thing! Besides the size, the S-XGen looks like a really nice unit, build seem great and the screen was very readable – and I would love to have that keyboard on my 8125!!
All GottaBeMobile.com InkShows are sponsored by:

As an Amazon Associate I earn from qualifying purchases.