CES Report: The Black Diamond "SwitchBack" Ultra-Mobile PC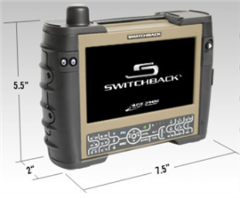 As mentioned before, the GottaBeMobile team had a list of hard targets to find at CES that we wanted to make sure and cover for you guys. One of those was the Black Diamond SwitchBack Ultra-Mobile PC. We had heard of this machine a while back, but were interested in putting our hands on one of these super rugged and flexible models of UMPC.
After a long and hard search through the jungle of CES booths, we finally found it and got a great demo and some video with Shane Lewis of Black Diamond for your enjoyment. We were very impressed with the versatility of this machine (and their very cool method of displaying the units suspended from chains!). Think of a solid tank, and you will know how this machine felt in our hands. Add to that the ability to configure this unit to handle most any processing task via the snap on "modules". and you get the idea. Need to scan some barcodes? Snap on a module. Need to fly an unmanned drone for the military? Snap on a module. Need to add a specialized cable to control some other special piece of machinery? Call Black Diamond, and they will build you a module to snap on.
This machine is the ultimate in flexibility in a handheld form factor. With multiple processors which switch intelligently, you can run Windows Mobile applications, Windows CE apps, regular Windows apps, or your favorite Linux flavor. Oh, and by the way, it is sealed for use in inclement weather, and passes some pretty serious drop tests as well. Like I said, its a tank. Add a hot swappable battery, a removable hard drive, and the "WOW" factor really starts to set in. Oh, and by the way, it has a a touchscreen! They have thought of everything on this machine. It is running Windows XP Pro, not the Tablet PC edition, but they are looking into the possibility of adding tablet functionality if the application requires it. The touch functionality is for navigation and object manipulation only at this point, which works well for this unit.
While not a machine for the everyday user, the SwitchBack PC is certainly a marvel of engineering and has great application for many field force personnel in most any environment. In this InkShow, we got a nice demo and explanation of just how cool this device is. Check it out, and take your UMPC experience where no other UMPC has dared to go!
All GottaBeMobile.com InkShows are sponsored by:

As an Amazon Associate I earn from qualifying purchases.