CES Report: The Flybook V5i Tablet PC InkShow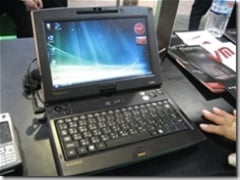 It wasn't until Matt and I were ready to leave the show floor and head to the Tablet PC / UMPC meetup, that we came across the Dialogue / Flybook booth. At first glance, we didn't see much new, then our eyes stopped at the V5i Tablet PC. What a great device.
We enjoyed getting to know Renato from Dialogue as he explained the features of the new V5i Tablet PC in this InkShow. I have to tell you, it is a very nice device. The location of the mouse buttons threw me for a little while, but after seeing the intended usage, it hit home. During our time at the Dialogue booth, I showed them my P1610 and they were quite taken with it, especially the palm rejection technology. Seeing as how they are similar sized units, it would not surprise me to see Flybook come out with some decent palm rejection technology for its touch-enabled tablet pcs.
We also took a look at an innovative laptop called the VM, that features a fold out display. Unfortunately, it is not a touch or tablet laptop, but it showed the innovation that Flybook is known for, so we shot some video of it, too. Hopefully touch / tablet technology will be coming to the VM as well.
General specs:
1.2ghz Core Duo ( Core 2 Duo coming soon )

8.9″ touch screen

2gb ram

integrated 3g support via sim card

built-in web cam

Pricing: around $2200 – $2500
Watch

the InkShow ( 76 mb, 4:27, high resolution ) , watch the lower resolution via the YouTube video below

Visit Flybook
All GottaBeMobile.com InkShows are sponsored by:

As an Amazon Associate I earn from qualifying purchases.